SOLDATS ET REGIMENTS POUR LESQUELS LE S.B.P.B
A HONORE LA MEMOIRE DEPUIS CES DERNIERES ANNEES.
Ils ne vieilliront pas comme nous qui leur avons survécu ;
Ils ne connaîtront jamais l'outrage ni le poids des années.
Quand viendra l'heure du crépuscule et celle de l'aurore,
Nous nous souviendrons d'eux.
nd Btn ROYAL SCOTS;
WHEN YOU GO HOME
TELL THEM OF US AND SAY :
"FOR YOUR TOMORROW , WE GAVE OUR TODAY"
Passant, quand tu liras ces noms à qui tu dois la liberté,
recueille-toi pieusement et salue en eux les plus grands des martyrs
de l'histoire. En le faisant tu rempliras un devoir, et tu sentiras ton âme s'éveiller
à des idées meilleures.
SOLDATS, SOUS-OFFICIERS, OFFICIERS, INFIRMIERS, MEDECINS, etc...
Hey Brothers, do you hear me ? Where are we ?
In the world of darkness and silence....
Who will remember of us ?
After so many years, who will remember our sacrifice ?
Sometimes people come and have a short look to our graves,
Sometimes they lay a wreath or a wee cross on our grave.
Sometimes a piper plays a lament and then the silence is back
for so many weeks, months or years....
We are the lost generation, we are the lost soldiers,
we are the lost lives.
At the going down of the sun and in the morning,
please don't forget us ....
Y.H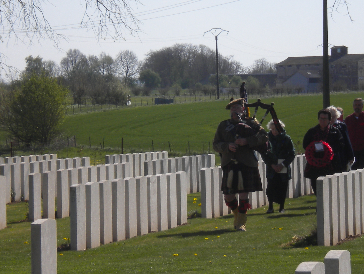 Soldats et Officiers des cimetières de Ovillers, La Boisselle,
Albert, Fricourt et Beaumont Hamel (1916)
2nd Lt Wilfred OWEN MC (Manchester Regiment)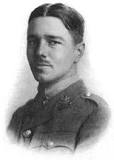 (+1918+)

– Sailly Laurette

1998
Wilfred Edward Salter Owen, MC (18 mars 1893 – 4 novembre 1918) est un poète anglais, très connu en Angleterre et parfois considéré comme le plus grand poète de la Première Guerre mondiale. Ses poèmes, souvent réalistes et décrivant la brutalité et l'horreur de la guerre de tranchées et des attaques au gaz, tranchent fortement avec l'opinion que le public porte sur la guerre à l'époque. Le 21 octobre 1915 il s'enrôle dans le régiment des Artists' Rifles. Il suit un entraînement de sept mois au camp de Hare Hall dans l'Essex. En janvier 1917, il reçoit le grade de sous-lieutenant au Manchester Regiment. Après quelques expériences traumatisantes, on diagnostique chez lui un syndrome commotionnel (shell shock) et il est envoyé en traitement à l'hôpital militaire de Craiglockhart à Édimbourg. C'est là qu'il rencontre le poète Siegfried Sassoon qui a une grande influence sur lui.De retour au front, Owen emmène le 1er octobre 1918 des unités du Second Manchesters à l'assaut de positions ennemies près du village de Joncourt. Il est tué le 4 novembre 1918 lors de la grande offensive finale à Ors près du Cateau-Cambrésis, une semaine presque à l'heure près avant l'armistice. Sa mère est avertie de sa mort alors même que les cloches de la paroisse sonnent pour annoncer l'Armistice.La compagnie du Second Manchesters se reposait dans la maison forestière d'Ors. L'état-major voulait reprendre des positions sur la rive droite du canal Sambre-Oise. Il fallait assembler et lancer des passerelles sur le canal sous le feu des Allemands retranchés de l'autre côté. Le 4 novembre à 6 heures du matin, profitant de l'obscurité et du brouillard, le génie mit à l'eau des flotteurs de liège. C'est alors que tout à coup le brouillard se leva et que les Allemands mitraillèrent toute la compagnie. Wilfred Owen repose avec tous ses camarades d'armes du Second Manchesters et le Lieutenant-Colonel des Irish Guards James N. Marshall titulaire de la Victoria Cross dans le cimetière d'Ors. Il a reçu à titre posthume la Military Cross pour son courage et ses qualités de chef à Joncourt.
Pte G.BELL (1st Btn Cameron Hdrs) (+1918) - Pte J.CASSIDY (HLI) (+1918) -
Pte T.TULLOCH (Cameron Hdrs) (+1918) - 1998 - Vermand
Soldats écossais tués aux combats près de St Quentin , dont la cérémonie du souvenir a eu lieu sous une pluie battante ...
Soldats et Officiers du Cimetière de Bazentin le Petit (1916) - 1998
Pte William BENNETT (KOYLI) - (+1916) 2002 - WARLOY BAILLON
Soldat dont le corps fut retrouvé en 1999, et dont le petit neveu organisa une cérémonie très intime, nous n'étions que deux dans le cimetière en cette froide matinée d'un dimanche de Novembre 2002….
Hommage à tous les soldats enterrés au cimetière Britannique d'Etaples - 2003, 2022
Une cérémonie a eu lieu, suite aux actes de vandalisme commis en ce mois de Mars 2003. Yves, Pipe Sergent a été chargé de jouer le Lament "Flowers of the forest", en présence du Secrétaire d'Etat aux Anciens Combattants, M. Mekachera. En 2022, cérémonie du 100ème anniversaire de l'inauguration officielle par le Roi George V, en présence de la Princesse Anne.

Sgt Piper,George FINDLATER VC (Gordon Hdrs)

(+1942) - 2003 Ecosse
Sergeant George Frederick Findlater VC ( 1872 – 1942) était un soldat Ecossais de l'armée Britannique et fut décoré de la Victoria cross pour acte de bravoure lors de la bataille de Tirah . Le 20 Octobre 1897, Findlater, alors jeune cornemuseux au sein du régiment des Gordon Highlanders, reçut une balle dans le pied au cours d'un assaut pendant la Bataille des Monts de Dargaï. Incapable de marcher et exposé au feu intense de l'ennemi, il continua cependant de jouer de la cornemuse pour encourager son bataillon à avancer. Cet événement eut un grand écho et fut amplement relaté par la presse, faisant de lui un héros .
En 1914, il se réengagea dans le régiment des Gordon Highlanders comme cornemuseux-major dans le 9ème Bataillon jusque fin1915, et retourna chez lui en raison de problèmes de santé, et s'occupa du pipe band local jusqu'à sa mort en 1942, âgé alors de 70 ans.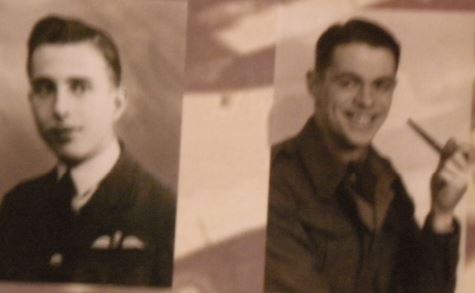 KENNETH LUCAS (RAFC) & DAVID PINKNEY (RAF) (+1944) - WARLOY BAILLON - 2004

Général Ernest BARBOT (Légion d'Honneur, Croix de Guerre)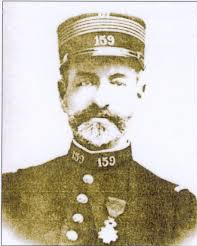 (+1915) - SOUCHEZ 2004 à 2017
Ernest Jacques Barbot
, né le
à
Toulouse
,
est un
officier général
français. C'est l'un des
42 généraux français morts au combat
, à Souchez le 10 Mai 1915. H
ommage aux soldats de la 77ème Division d'infanterie
et à leur chef, le
général Barbot
, blessé par un éclat d'obus au
combat de Souchez
le
qui mourut pendant son transport à l'hôpital.
Très apprécié par les soldats, le général Barbot, surnommé « le sauveur d'Arras » en raison de la résistance qu'il opposa avec ses troupes pour la défense d'Arras en Octobre 1914
est inhumé aux côtés de ses soldats dans la Nécropole nationale de Notre Dame de Lorette .
Sgt Robert HENDRIE MM&Bar (HLI & MGC)
(+1918) -

2005,2015, 2020,2021, 22,23– COULLEMONT
Mort en septembre 1918, en chutant pendant la nuit dans un puits non couvert , ce soldat avait participé depuis 1914 aux différentes batailles au sein du Royal Scots Fusiliers, puis en 1916 au sein du machine Gun Corps.Il fut décoré deux fois de la « Military Medal »
2nd Lt André C. MYNARSKI VC (Canadian Air Force)

(+1944) - 2005 à 2008 – GAUDIEMPRE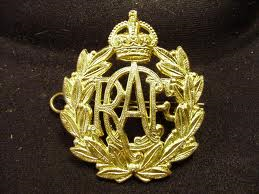 Originaire de Winnipeg, au Manitoba, Andrew Mynarski s'est enrôlé dans l'Aviation royale du Canada en 1941. Au cours d'un raid en France, son appareil s'est écrasé. Mynarski a alors héroïquement tenté de dégager le mitrailleur arrière du Lancaster John Brophy, coincé dans la tourelle de l'appareil en flammes, même si ses vêtements et son parachute avaient pris feu. Mynarski a réussi à sortir de l'aéronef, mais il n'a pas survécu à ses blessures. Par miracle, Brophy s'en est tiré et il a pu raconter l'incroyable exploit de son courageux camarade. Le sous-lieutenant d'aviation Mynarski a reçu la Croix de Victoria à titre posthume pour cet acte de vaillance.
Soldat Harry STEINBERG (Royal West Surrey Regiment)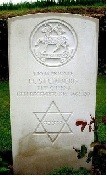 (+1916) - 2005 - Beaumont Hamel
Harry Steinberg was listed in the "British Jewry Book of Honour" which lists details of all Jews who had served in the Commonwealth forces. The 1901 Census enabled Andy to trace the Steinberg family, and he then pursued several lines of research. Many records relating to the Great War are held at the National Archives, Kew. Unfortunately, Private Steinberg's service record was one of those destroyed in the Blitz; however his Medal Index Card was available. The National Newspaper Library in Colindale held copies of the "Jewish Chronicle", and in 1916 Harry Steinberg was listed as "Killed in Action", and his obituary was published there.
Lt Col Donald Mac KENZIE - 48th Highlanders of Canada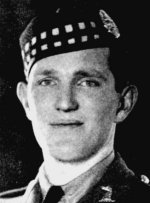 (+1945) - Holten - 2005,2006, 2009, 2015, 2019 et les 1380 soldats & officiers canadiens .
Lt George BUTTERWORTH MC (Durham Light Infantry)

(+1916) – 2006-2007-2008 POZIERES
Engagé volontaire dans l'armée anglaise (British Army) dès la déclaration de guerre en 1914, il est affecté au 13e Bataillon d'infanterie légère de Durham avec le grade de lieutenant. Il fut décoré de la MC et cité à l'ordre du bataillon, pour sa défense d'une tranchée. Envoyé en France lors de la Bataille de la Somme. Il y fut tué le 5 août 1916, abattu par un tireur d'élite et son corps n'a jamais été retrouvé. Son nom fut gravé sur un des piliers du Mémorial de Thiepval, à quelques pas de Pozières.
Alan SEEGER MM-CG (Légion Etrangère)

(+1916)- 2006 – LIHONS
Alan Seeger est un poète américain qui passa les dernières années de sa vie en France. Il est né à New York le 22 juin 1888 et est mort le 4 juillet 1916 (à 28 ans) au combat de Belloy-en-Santerre durant la Première Guerre mondiale Au début de la
Première Guerre mondiale
, en
1914
, il défile en brandissant le drapeau étoilé à la tête des Américains de
Paris
qui ont décidé de se battre aux côtés du pays qui les a accueillis. En tant qu'étranger, il s'engage le 24 août à la
Légion étrangère
, au 2e
régiment
de marche du
2e étranger
. régiment créé pour recevoir des engagés "différents" Il sert à la 1re section,
bataillon
C, 11e
compagnie
commandée par le
capitaine
Tschaner. En juillet
1916
, le
Régiment de marche de la Légion étrangère
est engagé dans la
Somme
pour soulager le front de
Verdun
. Le légionnaire Alan Seeger est tué devant
Belloy-en-Santerre
, le 4 juillet, jour de la fête nationale américaine. Il est inhumé à l'ossuaire de
Lihons
(
80
). Il a été décoré à titre posthume de la
Médaille militaire
ainsi que de la
Croix de guerre 1914-1918
avec palme. Son service sous les armes et les rigueurs de la guerre lui ont inspiré le célèbre et prémonitoire poème Rendez-vous avec la mort (I have a rendez-vous with Death), qui était un des poèmes préférés du président John F. Kennedy.
William HESFORD (Royal Welsh Fusiliers)
(+1918)– 2006 – Evin Malmaison
Ainsi, au Five Points Cemetery de Léchelle repose W. Chadwick du 2nd Battalion du Royal Welsh Fusiliers, tué le 15 septembre 1918. Il n'avait que 15 ans. Quinze ans ! Des recherches ont permis d'établir la véritable identité du « soldat adolescent» : William Hesford, né dans le Massachusetts. Sans doute, le plus jeune soldat américain mort durant la Grande Guerre.

Lt-Col Adrian CARTON de VIART,
VC
,
KBE
,
CB
,
CMG
,
DSO
(Royal Irish Dragoon Guards)

(+1963) THIEPVAL – BOIS DE MAMETZ - 2006
Nommé sous-lieutenant de cavalerie (matricule 836) au 4th Royal Irish Dragoon Guards en 1901. Gravement blessé pendant la seconde guerre des Boers (octobre 1899 - 1er juin 1902), en Afrique du Sud. Il est ensuite aide de camp du général commandant en chef en Afrique du Sud de 1905 à 1908. Brillant combattant de la Première Guerre mondiale : blessé huit fois (perte de la main gauche et de l'œil gauche), il fait l'objet de cinq citations à l'ordre du jour Mentioned in Despatch. En 1914-1915, il est affecté en Afrique de l'Est au Somaliland Camel Constabulary. Il est décoré du Distinguished Service Order (DSO) le 15 mai 1915. Affecté en France en 1916, il combat avec le 7 Btn North Lancashire Regt et le 8 Btn Gloucestershire Regt. Lieutenant-colonel, il reçoit la Victoria Cross le 3 juillet 1916 pendant la bataille de la Somme. En 1917, il commande temporairement la 12e Brigade d'infanterie, en France. Lieutenant-colonel au 4th Royal Irish Dragoon Guards jusqu'à la fin de la guerre. Il est nommé Compagnon de l'Ordre de Saint-Michel et Saint-Georges (CMG) le 3 juin 1918 puis Compagnon de l'Ordre du Bain (CB) le 3 juin 1919.

HEROES OF THE 51st HIGHLAND DIVISION - Beaumont Hamel, 2006 à 2023

Pte Christopher COX VC (Bedfordshire Regiment)

(+1959) - 2007 - ACHIET LE GRAND
Brancardier , ce soldat a sauvé plusieurs de ses camarades blessés à Achiet le Grand où un Mémorial lui a été construit. S'étant engagé en septembre 1914, C.Cox arriva en France le 26 Juillet 1915 avec ses camarades du 7ème Bataillon du Bedfordshire Regiment, en qualité de brancardier pendant la bataille de la Somme. Blessé à la jambe dès le premier jour, il participa après sa guérison aux combats à Thiepval en septembre. En Mars 1917, son Bataillon prit part à l'attaque qui obligea les Allemands à se replier sur la ligne Hindenburg. Ses derniers combats se produisirent à Achiet Le Grand et Bihucourt, où il obtint la Victoria Cross.
Pte George NEISH (6th Btn Gordon Highlanders)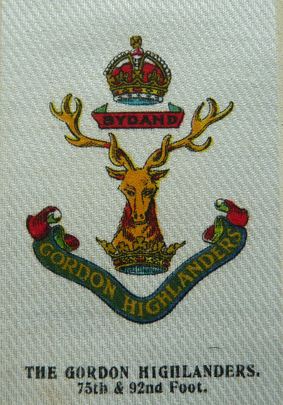 (+1917) - 2007 à 2023 - ROCLINCOURT Originaire du village de Ruthven , près d'Inverness en Ecosse, il fut tué au combat lors de la Bataille d'Arras fin mars 1917 et repose dans le cimetière de la Highland Division à Roclincourt. Chaque année, le 9 Avril, un hommage lui est rendu ainsi que pour tous ses camarades tués au combat.
Mémorial du Soldat inconnu Britannique - St Pol/Ternoise - 2007 à 2015

Pte Angus ANTHONY, Gunner Joseph CHEVERTON, LCpl George FOOT, Gunner William GALWAY, Cpl Henry HAMMOND, Pte A.J. HELLENS, Gunner Harvey HUNT, LCpl C. JEFFCOCK, 2nd Lt R.A. JONES, Pyr James KEATING, Gunner Trevor LAWLEY, LCpl H.MONKS, Pte Walter ROBINSON, Gunner Alexander STEWART, Gunner Frederick TIPPING, Gunner E.TRACE, Pte J.T.VERNON , 2nd Lt Frank HEAP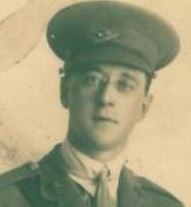 (+1917 & 18)- TANK CORPS - Flesquières - 2007 à 2019, 2021,2022
Lt Gordon Muriel FLOWERDEW -VC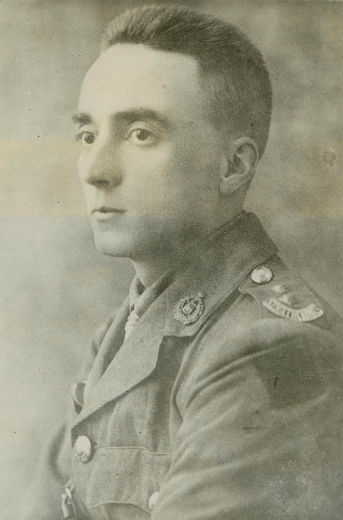 Lord Strathconnas Horse (+1918), Cpl John.J WILLOUGHBY

Lrd SH (+1918), Robert W MAC KAY (LrdSH) (+1971): Au cours d'une des dernières charges de cavalerie de la grande guerre, ce soldat a reçu plus de 50 balles dans le corps et est resté miraculeusement en vie…. 2008 à 2019 , 2022– MOREUIL WOOD

Pte Hugh Mac IVER VC (Royal Scots)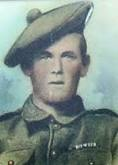 (+1918)
- 2008 – COURCELLES LE COMTE
23 août 1918, le 2e bataillon des Royal Scots attaque à revers les Allemands qui sont retranchés à Courcelles-le-Comte. Le soldat Hugh Mc Iver, un agent de liaison, se lance seul à l'assaut d'une position ennemie. Il tue six Allemands, en capture vingt, s'empare de deux mitrailleuses… Quand un tank britannique se trompe de cible, visant son propre camp, Mc Iver fonce sur l'engin et rectifie le tir ! Actes héroïques qui lui vaudront la Victoria Cross remise à titre posthume à ses parents en 1919 car Hugh Mc Iver est tué le 2 septembre près du bois de Vraucourt. Il avait 28 ans
Pte Percy Oswald JAMIESON (AIF)

(+1917) - 2009, 2017 – LEBUCQUIERE
Tué au combat le 9 Avril 1917, âgé de 19 ans , ce soldat du 2ème Bataillon aimait particulièrement la chanson « the road to Gundagaï », air que le SBPB interprète régulièrement depuis cette date, en mémoire de tous les soldats Australiens.
Sous Lieutenant Robert ETLIN, LH, CG, MR, OMH

(+1945) - 2009 – LOENEN - PAYS BAS
Robert Etlin
, pilote des
Forces aériennes françaises libres
disparu en 1945, son appareil ayant été abattu par la DCA Allemande à Loenen aux Pays Bas
Cérémonie à Guillemont pour les soldats du 265ème Régiment d'Infanterie (+1914) - 2010
Pte Isaac Leonard "Dick" READ (Leicester Regt)

(+1971) - 2010 – BERLES AU BOIS
Pte John Barsby (Leicester Regt)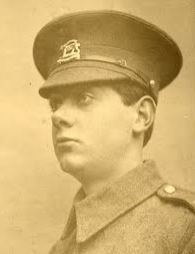 (+1915)- 2010 - BERLES AU BOIS
Lance Corporal Richard LANE (Leicester Rgt)

(+1916)- 2010 - Berles au Bois
Cérémonie en présence de la famille de D.Read et de l'association régimentaire des « Tigers », en mémoire des camarades tombés au combat .
K.R. LUCAS (RAF) - E. PINKNEY (RAF) - D.J. MOLE (RAF)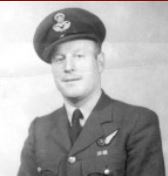 J.H. WALDRON (RAF)

(+1944)
-
2010 – TAILLETTE
Ces aviateurs sont morts en retour d'une mission de bombardement en Allemagne, ayant heurté en plein vol un autre appareil.
PIPER BILL MILLIN (LOVAT SCOUTS)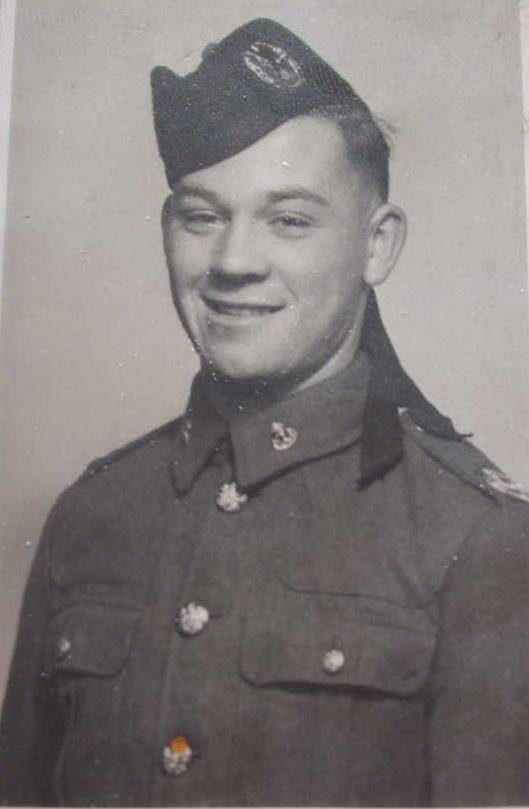 (+2011)– 2011,2013– COLLEVILLE MONTGOMERY
Surnommé "the mad piper", ce soldat écossais sous les ordres de Lord Lovat a franchi le pont de Bénouville armé de sa cornemuse, entraînant ainsi ses
camarades vers le succès. Un mémorial lui a été construit et inauguré en Juin 2013.
LCPL C.W. MARR , LCPL H. SHEPHERD, Pte C.F. FOX, Pte A.S. GREY , Pte J. HAUGHEY, Pte J. NIVEN
& Pte W. PIRIE (7th Btn SEAFORTH HIGHLANDERS) (+ 1918) - 2012 - CAESTRE
Cérémonie pour 7 soldats écossais tués le 6 Juin 1918 au Thieushouck, en compagnie des familles et de nos amis les "Flanders Jocks"
2nd Lt William Basile CATTO (4th Btn Tyneside Scottish )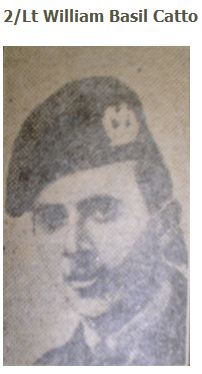 (+1916) - 2012 - ERQUINGHEM/LYS
Tué le 11 Septembre 1916, le nom du 2
nd
Lieutenant W.Catto fut inscrit sur la plaque fixée sur le tambour du Régiment Tyneside Scottish, tambour retrouvé dans son état à Frévent, puis restitué par le SBPB à l'association régimentaire du T.S pour l'exposer dans son Musée de Newcastle.
PIPER James RICHARDSON VC (16th Canadian Scottish)

(+1916) – 2012 – COURCELETTE
James (Jimmy) Cleland Richardson
VC (1895 – 1916) a reçu la Victoria Cross à l'âge de 20 ans, la plus prestigieuse médaille pour acte de bravoure face à l'ennemi. Né à Bellshill en Ecosse, il partit habiter à Vancouver au Canada (Colombie Britannique) puis à Chilliwack. Il était cornemuseux au sein du 72ème Seaforth Highlanders du Canada, et au 16ème Bataillon Canadian Scottish . Au cours de l'a Bataille de l'Ancre en Octobre 1916, sa compagnie fut prise sous un feu intense. Il obtint alors la permission de jouer avec sa cornemuse l'air "over the top" , encourageant ainsi ses camarades à prendre l'assaut et à capturer la position ennemie.Ensuite il retourna chercher un camarade blessé et le ramena . Il reprit le chemin du no man's land pour récupérer sa cornemuse mais nul ne le revit vivant par la suite.
Deux soldats inconnus dont un du Régiment Argyll & Sutherland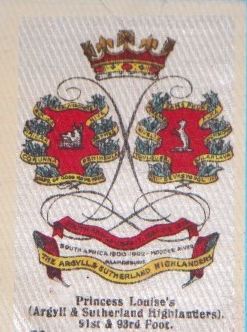 -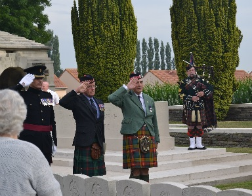 2013 - CUINCHY
Deux stèles, parfaitement alignées dans l'allée 1H du Woburn Abbey Cemetery de Cuinchy. Deux plaques de marbre avec pour inscription « A British soldier of the Great War » et en guise de date « Known unto God » (« connu de Dieu seul »). C'est là que reposent désormais deux soldats inconnus de l'armée britannique, morts lors de la Grande Guerre. Une inhumation solennelle , organisée par le ministère de la Défense britannique, pour rendre les honneurs militaires à deux hommes qui n'y avaient pas encore eu droit. Les soldats n'avaient été découverts qu'en mai 2008 par des archéologues à Auchy-les-Mines, avec quelques artefacts militaires (boutons, chaussures…) ainsi que des effets personnels. Malheureusement, le ministère de la Défense britannique n'a pas été en mesure d'identifier les deux soldats; toutefois, l'un d'eux portait un insigne du Argyll & Sutherland Highlanders Regiment. » Stationné en France et en Belgique, ce régiment d'infanterie écossaise de l'armée britannique avait perdu quelque 6 906 hommes.

Soldats Canadiens (tués lors du débarquement de Dieppe en 1942)- Le Portel 2013-2015-2017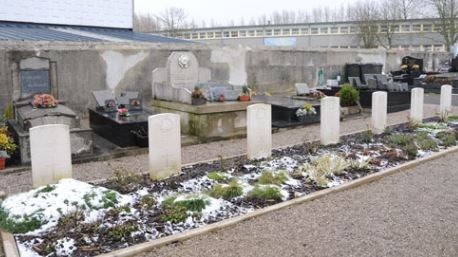 Sergent Robert Fleming et soldat Lionel Marten (Queen's Own Cameron Highlanders of Canada) et cinq autres soldats non identifiés.
Lieutenant Ewart Alan MACKINTOSH, MC (Seaforth highlanders)

(+1917) - 2013 - FLESQUIERES - 2017 - CANTAING/ESCAUT
Ewart Alan Mackintosh est né le 4 Mars 1893, le seul fils d'Alexander Mackintosh et sa femme. Bien qu'il soit né à Brighton dans le Sussex, les racines de son père étaient de Alness dans le "Ross et Cromarty". Il a étudié à Brighton, tout en apprenant également le Gaélique et aussi à jouer de la cornemuse pendant les vacances. Il a continué ses études à Londres et ensuite a étudié à Oxford. Mac Intosh, qui était un membre de l' Université d'Oxford, formation des Officiers, a essayé de rejoindre l'armée immédiatement quand la guerre a éclaté en Août 1914 et tout en restant dans son cursus universitaire. Il n'a pas été accepté en raison de sa mauvaise vue. Il s'est représenté plus tard et a été accepté par le régiment Ecossais des Seaforth Highlanders, avec le grade e lieutenant le 31 Décembre 1914. Il a servi avec le 5ème Bataillon (Sutherland et Caithness Highland) Bataillon des Seaforth Highlanders (unité territoriale) , qui faisait partie de 51ème Division des Highlands . Il revint en Angleterre en Août 1915 après avoir été blessé à Highwood dans la Somme . Il resta près de Cambridge pendant huit mois au cours desquels il a été instructeur pour la formation des cadets et il s'est marié avec Sylvia Marsh, qui était d'une famille de Quakers. Le 16 mai, il conduisit un raid près d'Arras , où plusieurs de ses hommes se firent tuer. L'un d'eux, David Sutherland, lui inspira le poème "In Memoriam" . Mackintosh a reçu la "Military Cross" le 24 Juin 1916. Sa citation est parue dans le London Gazette comme suit:
"2nd Lieutenant Ewart Alan Mackintosh, l/5th Bn., Mer. Highrs., TF: Pour sa bravoure. Il a organisé et dirigé un raid réussi sur les tranchées ennemies avec une grande habileté et courage. Plusieurs ennemis ont été tués et un point stratégique détruit. Il a également ramené deux blessés sous le feu intense de l'ennemi. Mac Intosh avait essayé de porter sur son dos le soldat Sutherland, qui avait perdu un certain nombre de membres, dans les tranchées. Sutherland est mort de ses blessures et a dû être laissé, il n'a pas lieu de sépulture connue, mais est commémoré sur le Mémorial d'Arras" .
À l'âge de 23 ans, Mackintosh se considérait comme un père pour ses hommes, et ils l'appelaient affectueusement "Tosh". Sutherland était Écossais, mais beaucoup d'autres étaient originaires de Nouvelle-Zélande. L'un des derniers poèmes de Mackintosh, Cha Till Maccrimon , semble prédire sa propre mort.Mackintosh a été tué au combat le deuxième jour de la bataille de Cambrai, le 21 Novembre 1917. Il observait une attaque de grosse envergure près du village de Cantaing , lorsqu'il reçut une balle dans la tête. Cambrai fut le lieu où de nouvelles armes furent utilisées, comme celle du Tank. Il a été enterré dans le Wood Cemetery d'Orival près de Flesquières , dans le Nord de la France .

Private William Mac ALEER (Royal Scots Fusiliers) - (+1915) et 19 autres soldats

inconnus - 2014 - LO0S EN GOHELLE -dont les corps ont été retrouvés à Vendin Le Vieil en 2010 et inhumés au cimetière Britannique de Loos en Gohelle; Yves a déposé une gerbe au nom de de la Royal British Legion NPDC, sur la tombe du soldat inconnu du Queen's Own Cameron Highlanders.


La bataille de Loos fit part de la deuxième bataille de l'Artois. Le Général Douglas Haig qui commandait la première armée britannique, prit le commandement des opérations, mais ses plans furent contrariés par la pénuries d'obus et les bombardements préliminaires furent de faible intensité. Les Britanniques envoyèrent également 140 tonnes de gaz moutarde avec un succès mitigé, une partie étant rabattue par le vent sur leurs propres tranchées.

La bataille débuta le 25 Septembre 1915. Les Britanniques furent capables de réaliser une percée à travers des tranchées allemandes et de prendre la ville de Loos. Cependant des problèmes concernant les communications et l'approvisionnement empêchèrent les unités de réserve d'arriver à temps, et ce succès initial ne put être exploité. Quand la bataille recommença les jours suivants, les Allemands étaient prêts à repousser toute nouvelle percée. Les combats continuèrent jusqu'au 28 septembre, et se soldèrent par un repli des troupes britanniques sur leurs positions de départ.

Parmi les morts britanniques lors de cette bataille, on peut citer John Kipling, le fils de Rudyard Kipling, Fergus Bowes-Lyon, le frère d'Elizabeth Bowes-Lyon (la future reine consort de George VI), et le poète Charles Sorley. Un autre poète, Robert Graves, survécut et décrivit la bataille et les jours suivants dans son autobiographie



Lt Charles POPE VC (AIF - 11th Btn) (+1917) - Moeuvres -2014
Charles Pope enlisted in the Australian Imperial Force on 25 August 1915 and on 10 February 1916 was commissioned second lieutenant from the rank of sergeant in the 11th Battalion (18th Reinforcements). On 15 July he embarked at Fremantle in the transport Ajana and reached England in September. On 10 December he joined the 11th Battalion in France and on 26 December was promoted Lieutenant.
On 15 April 1917 Pope was killed in action at Louverval and was awarded a posthumous Victoria Cross. He had been placed in command of a picquet post in the sector held by his battalion, his orders being to hold this post at all costs. The post was attacked and surrounded by Germans. Pope, finding that he was running short of ammunition, sent back to headquarters for supplies but the ammunition party could not get through. In the hope of holding his position Pope ordered his men to charge a large enemy force and they were overpowered. His body and those of his men were found among eighty enemy dead—sure proof of the gallant resistance which had been made. Pope was buried in Moeuvres communal cemetery extension, France.
Lt Harvey-KELLY (RFC)

(+1917) Glisy, Roeux , Arras- 2014
Major Hubert Dunsterville Harvey-Kelly (1891–1917) was a World War I pilot who was credited with being the first RFC pilot to land in France in the war, and of being the first RFC pilot to down an enemy aircraft. Harvey-Kelly (by then having been awarded the DSO) was not due to fly on the day of his final flight, 29 April 1917. Partly due to a rule that Squadron commanders did not fly (although many did) and partly due to a last minute switch.,[2] However because Richthofen was operating in the area he went up and became a victim of what the RFC called Bloody April when they lost 245 aircraft.
In the attack HD Harvey-Kelly, with Lieutenants Hamilton and Applin, spotted eight Albatros D.IIIs. Although outnumbered the attack was pressed when Harvey-Kelly spotted six Sopwith Triplanes of No 1 Sqn RNAS. However there are conflicting reports of whether these engaged[3] of sheered away.[4] During the dog fight Major Harvey-Kelly being shot down by Lt Kurt Wolff of Jasta 11. Major Harvey-Kelly and Lieutenant Applin were reported as killed in action, although Harvey-Kelly died of head wounds three days later in a German Hospital. He is buired in the Browns Copse Cemetery, Roeux, France

Pte David BROWN (Argyll & Sutherland 2nd Btn)

Seriously wounded - Le Cateau - 2014

2nd Lt Evelyn Walter Copland PERRY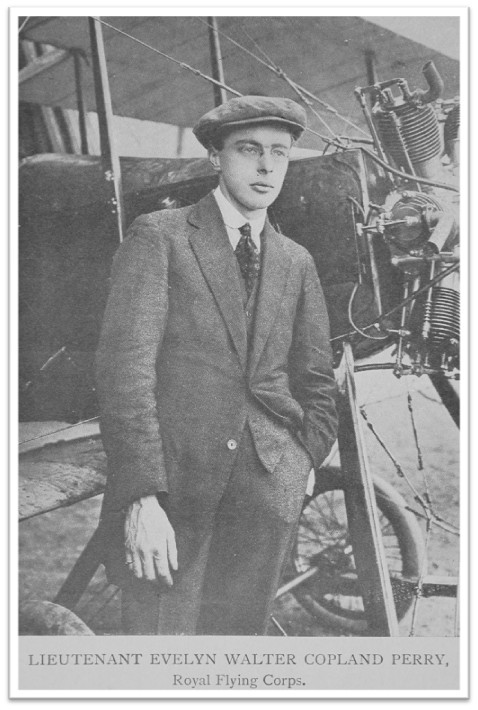 & Airman 2nd class Herbert Edward PARFITT (RFC) , (+1914) - Amiens St Acheul - 2014
E.W.C PERRY fut un pionnier le l'aviation britannique mais il se tua le 16 Août 1914, ainsi que son mécanicien H.E PARFITT, après avoir décollé d'Amiens avec son BE8. Ils furent ainsi les deux premières victimes Britanniques de la Guerre de 14/18.

Soldat Louis Joseph HEURT - 118ème Régiment d'infanterie de Quimper -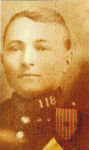 (+1915)
ALBERT, LA BOISSELLE -2014 - 2015
« Louis-Joseph était le frère de mon grand-père. Ils étaient sept enfants mais l'orthographe du nom Heurt a pris plusieurs écritures : Le Heurt et même Heurthe ». En 1914, célibataire, Louis-Joseph est mobilisé dans le 118erégiment d'infanterie. Tunnelier il avait pour mission de creuser des tunnels sous les lignes ennemies et d'y placer des bombes. En décembre de cette même année, sur le front de la Somme, la guerre fait rage, près de 1.500 Bretons y laisseront leur vie en quelques heures. Dans la bataille de La Boisselle, le Bannalécois y mourra avec son camarade Appolinaire Ruelland, de Loudéac. « Les faits nous ont été rapportés par les instances militaires après des découvertes macabres sur un terrain privé. La propriétaire des lieux avait contacté les autorités, l'armée britannique, après plusieurs jours de fouille, a récupéré ses soldats, parmi eux les deux Bretons ».

Pte Harold THOMAS

and L Cpl Idris Emlyn SMITH

(RWF)(+1944) Brucamps -2014
SMITH IDRIS EMELYN
Idris Emlyn Smith was born on 1st September 1914, just at the outbreak of the First World War. He was the youngest son of seven children (four girls and three boys) of Richard (Dick) and Sarah Jane Smith of Penllwyn, Garthmyl, Montgomery.His home, Penllwyn, was a small farm in the rural community of Fron, Garthmyl, close to the village of Berriew in the County of Montgomeryshire, now known as North Powys, Mid Wales.He attended the small Fron School, which was attached to the Mission Church of St John at the Fron. His education ended when he was fourteen years old (as children did in those days) and the Church School closed. Idris Emlyn Smith est né le 1er Septembre 1914, juste au début de la Première Guerre mondiale. Il était le fils cadet de sept enfants (quatre filles et trois garçons) de Richard (Dick) et Sarah Jane Smith de Penllwyn, Garthmyl, Montgomery.Sa maison, à Penllwyn, était une petite ferme dans la communauté rurale de Fron, Garthmyl, à proximité du village de Berriew dans le comté de Montgomeryshire, maintenant connu sous le nom de North Powys, au Pays de Galles.Il est allé à la petite école Fron, qui était attaché à l'Eglise de la mission de St-John à Fron. Son éducation prit fin quand il avait quatorze ans (les enfants ont fait à l'époque) et l'École Église fut fermée. When he left school he worked at Melias in Newtown and Llanidloes prior to being apprenticed to Mr Dick Rowlands at the Sawmills, Garthmyl, where he learned to be a carpenter. He also worked as a carpenter for Welshpool Borough Council. Idris was working on various projects in the locality, the last of which was the replacement and renewing of the floor boards of the Old School in the village of Berriew where a new school had recently been opened – hence the closure of the Fron School at Garthmyl. Quand il a quitté l'école, il a travaillé à Melias à Newtown et Llanidloes avant d'être apprenti aux scieries de M. Dick Rowlands, Garthmyl, où il a appris le métier de charpentier. Il a également travaillé comme charpentier pour Welshpool Borough Council. Idris a travaillé sur divers projets dans la localité, dont la dernière était le remplacement et le renouvellement du plancher de la vieille école dans le village de Berriew où une nouvelle école a récemment été ouvert - d'où la fermeture de l'école Fron, Garthmyl . Prior to the outbreak of war Idris joined the Territorials and when war broke out he, along with many other local young men joined the 7th Battalion Royal Welsh Fusiliers. His Service Number was 4194607. Idris was a very fit young man. He became a Physical Education Instructor and joined the Regimental Police Section of the RWF where he attained the rank of Lance Corporal. Idris was the only member of the family to join the army, the others been refused permission to join up because it was deemed that their occupations – farming and gardening etc. was essential for the war effort. Avant le déclenchement de la guerre, Idris a rejoint la Territorial Army et quand la guerre a éclaté lui et beaucoup d'autres jeunes hommes de la région ont rejoint la 7th Bataillon du Royal Welch Fusiliers. Son numéro de service était 4.194.607. Idris était un jeune homme très en forme. Il est devenu un instructeur d'éducation physique et a rejoint la section de la Police régimentaire du RWF où il atteint le grade de caporal. Idris était le seul membre de la famille à se joindre à l'armée, pour les autres la permission de rejoindre l'armée fut refusé car il a été jugé que leurs professions (agriculture et le jardinage etc...) était essentielle pour l'effort de guerre. After training in Wales and Northern Ireland he became a member of the Regimental Police. Après une formation au Pays de Galles et en d'Irlande du Nord, il est devenu un membre de la police régimentaire. During his last few months before sailing for France he was stationed in Maidstone and Herne Bay, Kent where he met, and on April 26th 1944, married Florence Marion Beatrice Davies in Herne Bay, Kent. Girlie, as she was known, then naturally became his next of kin. She was a serving member of the WAAF. Au cours des derniers mois avant le départ pour la France, il fut en poste à Maidstone et Herne Bay, Kent où il rencontra, et épousa le 26 Avril 1944, Florence Marion Beatrice Davies à Herne Bay, Kent. Girlie, comme on l'appelait, est alors naturellement devenu son plus proche parent. Elle était membre des WAAF..
A fortnight after D Day Idris was sent to France! Communication in those days was very slow, especially in the countryside – the only communication being by post or telegram, and the mode of transport by local bus, train, bicycle or foot! Quinze jours après le D Day, Idris fut envoyé en France! Les communications à l'époque était très lentes, surtout à la campagne - la seule communication étant par voie postale ou télégraphique, et le mode de transport se faisait alors en autobus, train, vélo ou à pied! In 1944 I was about seven years old and attended the local school in Berriew with other children from the area. One day, in early September 1944, one of the children from the other side of the valley, told me that my Uncle Idris had been killed in France. She had heard her parents talking about it – apparently they had received a letter from a relation – Sergeant Dick Edwards, over there in the same company! En 1944, j'avais environ sept ans et je fréquentais l'école locale dans Berriew avec d'autres enfants de la région. Un jour, au début de Septembre 1944, l'un des enfants de l'autre côté de la vallée, m'a dit que mon oncle Idris avait été tué en France. Elle avait entendu ses parents parler de lui - apparemment, ils avaient reçu une lettre d'une de leur relation - le sergent Dick Edwards, là-bas dans la même compagnie! In all innocence I took the story home to my mother, Idris' sister, (my dad was also over in France at the time) and that was the beginning of what must have been the most traumatic and anxious few weeks for all my family. Little did I, at that age, realize what a desperately agonising train of events I was putting in motion. The family tried desperately to find out what had happened but it wasn't till some three weeks later that official notification came through that Idris had indeed been 'Killed in Action' on Sept 2nd 1944. En toute innocence, à la maison,j'ai raconté l'histoire à ma mère, la sœur d'Idris, (mon père était également en France à l'époque) et ce fut le début de ce qui devait être les semaines les plus traumatisantes et anxieux pour toute ma famille. La famille a essayé désespérément de connaitre ce qui s'était passé, mais ce ne fut que quelques trois semaines plus tard que la notification officielle est arrivé, Idris avait en effet été «tué dans l'action" sur le 2 septembre 1944. Naturally the telegram notifying of Idris' death was sent to his wife Girlie and that is why there was a delay in my family being notified of his death. Naturellement, le télégramme notifiant la mort Idris avait été envoyé à sa femme Girlie et c'est pourquoi il y eut un retard avant que ma famille ne soit averti de sa mort.
Idris was the only person in our small community to be killed during the 2nd World War although there were several others in the larger village community of Berriew and district. Idris était la seule personne dans notre petite communauté a être tué au cours de la 2e Guerre mondiale mais il y eut plusieurs autres dans la communauté du village de Berriew et du district. Idris' name is recorded on the memorial at the Lych Gate leading to the main Parish Church of St Beuno in the village of Berriew. Le nom d'Idris est enregistré sur le mémorial de Lych Gate menant à la principale église paroissiale de St Beuno dans le village de Berriew.
At St John's Mission Church at Fron a new altar was built in his memory, constructed by members of the firm where he worked, and crafted out of the old oak floorboards from the old school in Berriew where he last worked before enlisting in the 7th RWF! À l'église de St John Mission à Fron, un nouvel autel fut construit en sa mémoire, construit par les membres de l'entreprise où il avait travaillé, et fabriqué avec du vieux plancher de chêne de la vieille école dans Berriew où il a travaillé en dernier avant de s'engager dans le 7th RWF ! It was dedicated in his memory, in the church where he had attended school, worshipped and was a faithful member. The Inscription reads ; "Greater love hath no man than this – that he lay down his life for his friends". Il est consacré en sa mémoire, dans l'église, qu'il avait fréquenté, adoré et dont c'était un membre fidèle. On peut lire l'inscription suivante "De plus grand amour n'a point d'homme que de donner sa vie pour ses amis".
LC WHYTE A , Highland Light Infantry , 9th Btn (+ 1918) - Villers Guislain - 2014
Tué au combat sous un feu intense d'artillerie et de mitrailleuses lors de l'attaque du 29 Septembre 1918, enterré dans le cimetière "Targelle Ravine" auprès de ses camarades du 9ème Bataillon HLI et d'autres soldats du régiment Cameronians.
CAPTAIN WILLIAM ERIC NIXON - KOSB & ROYAL FLYING CORP

(+1917) - Masny - 2014
In 1916, Lt W E Nixon served as a DH 2 pilot in No 24 Sqn; he was mentioned in RFC Communiqué No 54 for his part in an action on 15 September 1916 when Lts Byrne, Mackay and Nixon fought 17 enemy machines, downing two (both credited to Lt Byrne). Lt W E Nixon was wounded on 15 October.
The 7 May 1917 raid in which Capt Nixon was killed involved 7 Nieuports from No 40 Sqn (Capt Nixon and 2Lts L L Morgan, C S Hall, C W Cudemore, H B Redler, E Mannock and J Parry). To distract the defences, British artillery fired a barrage at German trenches while twelve other British aeroplanes (the Triplanes mentioned by John) flew at high altitude. Of the seven balloons claimed destroyed, three caught fire in the air, two burst into flames near the ground and the other two burned on the ground.

Pte Emerson K. BROWN , Lord Strathcona's Horse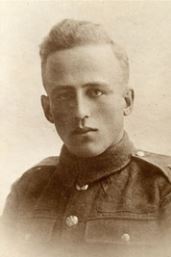 (+1918) - Moreuil 2015 à 2019
When the war broke out in September 1914, he enlisted as a private in Lord Strathcona's Horse. He rose quickly through the ranks and was commissioned as an officer in 1916. In January 1918 Flowerdew was given command of C Squadron of Lord Strathcona's Horse.
For most of the war, the Canadian Cavalry Brigade was not involved in much direct fighting, because of the static nature of the warfare. However, when the Germans launched Operation Michael and began a rapid advance in the spring of 1918, cavalry again became an important factor. In late March, as the Germans approached Moreuil and threatened to cross the L'Avre River, the last natural barrier before Amiens, the Canadian Cavalry Corps was assigned the task of stopping them. As the Germans began to enter Moreuil Wood from the east, Lieutenant Flowerdew's squadron rode around the wood and approached the Germans' flank from the north. Flowerdew ordered a cavalry charge.[1]
Riding into the fire of five infantry companies and an artillery battery, the squadron suffered atrocious casualties (more than half of the men in C Squadron were killed), and Flowerdew himself was fatally wounded. However, the cavalry charge so unnerved the Germans that they were never able to capture Moreuil Wood, and their advance turned into a retreat in early April. His actions in "The Last Great Cavalry Charge" led to the award of the Victoria Cross.
For most conspicuous bravery and dash when in command of a squadron detailed for special services of a very important nature. On reaching his first objective, Lieutenant Flowerdew saw two lines of enemy, each about sixty strong, with machine guns in the centre and flanks; one line being about two hundred yards behind the other. Realizing the critical nature of the operation and how much depended on it, Lieut. Flowerdew ordered a troop under Lieut. Harvey, VC, to dismount and carry out a special movement, while he led the remaining three troops to the charge. The squadron (less one troop) passed over both lines, killing many of the enemy with the sword; and wheeling about galloping on them again. Although the squadron had then lost about 70 per cent of its members, killed and wounded from rifle and machine gun fire directed on it from the front and both flanks, the enemy broke and retired. The survivors of the squadron then established themselves in a position where they were joined, after much hand-to-hand fighting, by Lieut. Harvey's part. Lieut. Flowerdew was dangerously wounded through both thighs during the operation, but continued to cheer his men. There can be no doubt that this officer's great valour was the prime factor in the capture of the position.
Flowerdew's Victoria Cross was one of twenty awarded during the battles of the German and Allied offensives in the Amiens area in 1918.
Alfred Munnings, who was then a largely unknown war artist, created an oil painting which depcits this cavalry charge. The canvas was formerly at the Imperial War Museum in London; but it is now in the collection of the Canadian War Museum in Ottawa.[2
He is buried at Namps-au-Val Cemetery in France located 11 miles south-east of Amiens (plot I, row H. grave 1).

Soldat Maurice TANKERE, Croix de Guerre avec Palme - 231ème Régiment d'Infanterie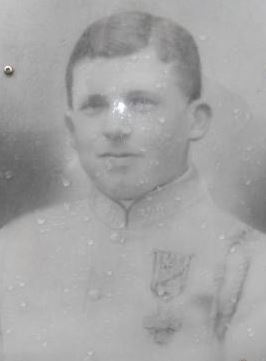 (+1918) - Moreuil 2015 à 2019
Soldat Raymond TESSEYRE, 12ème Cuirassiers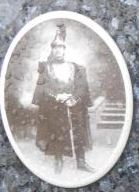 (+1918) - Moreuil 2015 à 2019

Soldats et Officiers écossais tués à Authuille en 1915: (Authuille -2015)
Black Watch: J.BALDIE - G.PRINGLE - Sgt A.WALLACE Seaforth : G.BROWN - W.DAVIDSON - J.WOOD
HLI : A.WATSON Argyll & Sthd : V.COLLINS - J.LAFFERTY - LCpl D.MACDONALD - T.MORRISON - J.MACGREGOR - A.MAC NAB - F.WILSON Gordon : A.COWE - E.GORDON - W.EWEN - G.FISHER - C.HARDY - J.HENDRY - Sgt A.MARR - J.SKENE
A.WALDIE - A.WOOD - J.WOOD
Piper Daniel LAIDLAW VC, Croix de Guerre - 7th Btn KOSB

(+ 1950) - Loos, Lens Bénifontaine 2015
Laidlaw was born at Little Swinton, Berwickshire on 26 July 1875 and joined the Army in 1896. He served with the Durham Light Infantry in India where he received a certificate for his work during a plague outbreak in Bombay in 1898. In the latter year he was claimed out by his elder brother and transferred as a piper to the King's Own Scottish Borderers, in 1912 he transferred to the reserve. In 1915 Laidlaw re-enlisted in The King's Own Scottish Borderers.
Laidlaw was 40 years old, and a Piper in the 7th Battalion, The King's Own Scottish Borderers, 15th (Scottish) Infantry Division British Army during the First World War when the following deed took place for which he was awarded the VC.
On 25 September 1915 during the Battle of Loos at Hill 70, prior to an assault on enemy trenches and during the worst of the bombardment, Piper Laidlaw, seeing that his company was shaken with the effects of gas, with complete disregard for danger, mounted the parapet and, marching up and down, played his company out of the trench. The effect of his splendid example was immediate and the company dashed to the assault. Piper Laidlaw continued playing his pipes even after he was wounded and until the position was won.[1] He later achieved the rank of sergeant-piper. His medals are on display on the 5th floor of the National Museum of Scotland in Edinburgh. Only one other piper was awarded a Victoria Cross during the First World War, the Scottish-born Canadian soldier James Cleland Richardson
2nd Lt John KIPLING, Irish Guards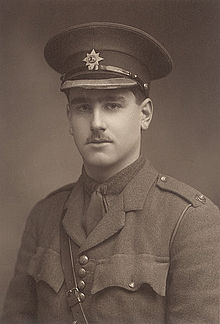 (+1915) - Haisnes 2015
John Kipling (1897-1915), was the son of Rudyard Kipling, who used his influence before the war to get John ("Jack") enrolled in the Irish Guards. Lt. John Kipling died at Loos in 1915, in a horribly bungled attack.
Captain Fergus BOWES-LYON , 8th Btn Black Watch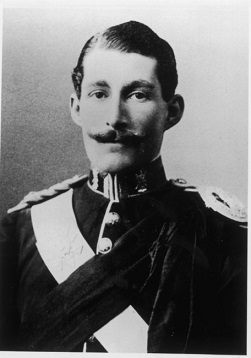 (+ 1915) - Haisnes - 2015
Bowes-Lyon was killed during the Battle of the Hohenzollern Redoubt in the Battle of Loos. As he led an attack on the German lines, his leg was blown off by a barrage of German artillery and he fell back into his sergeant's arms. Bullets struck him in the chest and shoulder and he died on the field.He was buried in a quarry at Vermelles, but although the quarry was adopted as a war cemetery the details of his grave were lost and so he was recorded among the names of the missing on the Loos Memorial.

Pte Joseph WALKER - Royal Welsh Fusiliers Regiment (+1915) - Chocques 2015

Soldats et officiers des infanteries Canadienne, Australienne et Britanique:
Pte R.A JONES, Pte G.R SQUIRES CASC, Pte W.J WALMSLEY, Pte H.L KAYE,
Pte G.J STEVENSON, Pte J.J TANGNEY, Pte G. TAYLOR, Pte W. KENNEDY,
Lt R.M KNOWLES, Canadian Engineers, Gunner Harry HIGGINS, Can.Field Artillery,
Lt J. ANDERSON, Pte E.P BARTLETT, Can MGC, Pte C.R ADAIR, Pte J. ATKINS,
Pte W.G ATKINSON, Lt G.I BAILLIE, 5th Can. Mounted Rifles, Pte R. BAIN,
Captain A.W BAIRD, Pte R.W BARR, Pte DHA BRINSMEAD, Sgt R. BROOKS, Pte A. BROWN,
Cpl W.J CHAPMAN, Pte O.S CLARKE, RCR, Pte W.F COLE, Pte R. CORRIGAN, Pte AFC COWAN, Sgt E.L CUVILLER, Pte J.S DANBROOK, Pte F.W DOUGLAS, Gunner W. DRYSDALE, Can. Artillery, Pte P.W DUCHARME, Cpl W.S DUMMA, Pte P. DUSOME, Pte C. EMERY,
Pte N. ENGLAND, Cy Sgt Mjr C.J ENRIGHT, Pte G. EVERSON, Pte A.D FESTER, Pte W.E FOSTER,
Pte D. FRASER, Gunner H. GILL, RFA, Pte F.J GITTINGS, Pte W.R HALFYARD, Pte A. HARDY, Pte H.H HILLIARD, Pte F.C HUTCHINS, Pte J. JEFFS, Pte G.H JONES, Sgt L. HOOTON,
Pte R. HOURIE, Pte W. HOUSE, Pte W.H HULL, Cpl R.C IRWIN, Sgt C. JAGO, Can.MGC,
Pte H. JAKEMAN, Pte P.C.A LAWN, Pte E. LEAKE, Pte H.B LILLEW, Cpl A.M.M Mac CAW,
Gunner G. MAC CULLOCH,CFA, Lt J.D.G MAC FADYEN, Tank Corps, Pte J. MACKENZIE,
Pte W. MAC LAGGAN, Pte M. MACPHERSON, Pte E.P MAHONEY, Pte K.M.K MENZIES,
Lt A.P MILK, LCpl F.L MURPHY, Pte R.S MURRAY, Cpl T.F NEWMAN, Pte F. PATERSON,
Sgt N.E PICOTTE, Pte H. PLOTKIN, Pte T. PRITCHARD, Pte J.A RANEY, Pte M.D RAPPAPORT,
Pte A.ROBERTS, Pte G. ROBERTS, Pte D.E ROBERTSON, Pte G. ROBERTSON, Pte J. ROBINSON,
Pte T. RORIE, Pte P.H SCOTT, Pte W. SCOTT, Pte A.J SINCLAIR,PPCLI, Pte J. SMITH,
Pte W.G SMITH, Pte W.T SCOTT, Cpl E.G SHANNON, Pte J.B STEPHENSON, Pte H.A TAYLOR,
Pte A.G THOMAS, Tank Corps, Pte N.C TRELEAVEN, Pte J.A TRELIVING, Pte A. WALKER,
Pte J. WALLER, Pte J.W WALTERS, Pte A. WARZEE, Pte W.J WILLIAMS, Pte B.T WOOD,
Pte W. WOODWARD, RCR, Pte H. HAYES, AIF, Pte A. MOULSON, AIF, 2Lt R.C RADCLIFFE, AIF,
Pte H. SUTCLIFFE, AIF, Sgt A.J DYER, Duke of Cornwall's Light Infantry, Pte J. SELLEK, DCLI,
Driver G.H GERRARD, RFA, Driver F.C ROKER, RFA, Bombardier T. FIELDING, CFA,
Cpl C.M.B JOHNSTON, CFA, Pte S.J DAVEY, Pte G.F DAVIS, Pte J.H RANDALL, Cpl W.J MENZIES, Pte R.A MUNROE, Pte J.F PALMER, Pte J.M BERNICOT, Pte T. LOWE,
Cpl W.R WHITTINGHAM, Can Light Trench Mortar Battery, Pte H.E MAC DOWELL,
Pte D.C MAC LEAY, Pte E. MANUEL, Pte G. YOUNGER, Pte W.R BOWEN, Pte R.R BREMNER,
Pte C. BURWELL, Pte R. CHRISTENSEN, Pte B.T COLE, Pte W. MATHESON, Captain PJL RICHARDS, (+ 1918) Hourges Cemetery - Domart sur la Luce (2016, 2019)

Cpl Thomas HOUSTON MM - 2nd Btn HLI - (+ 1918) - Bancourt 2016

Major Harold Graham PARIS MC & Bar

(+1918) and Pte RIDLER - 138th Heavy Batterie, Lt Kenneth MATHEWSON - RFC (+ 1916), Lt Dave MONK - RFC (+1916), Pte William TWYFORD - 13th Btn East Surrey (+1916) , Pte Francis WALSHE - RFAC, Major Arnold DAGIE - 137th Heavy Batterie (+1917), Lt H.C.THORNE - Royal Berkshire (+1916) , Pte William REES - East Surrey (+ 1917), Lance Corporal Albert Daniel STRUDWICK - West Surrey (+ 1918) - BULLY LES MINES - 2016
Major Gus MARCH PHILLIPPS, DSO,OBE,MBE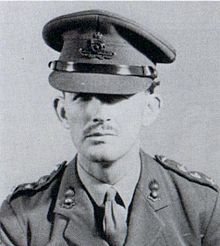 , Sergent Alan WILLIAMS , Pte Richard LEHNIGER (+1942) - St Laurent/Mer - 2016
Soldat André Werquin (201ème RI) : né le 7 décembre 1895 à Pas-en-Artois. - Pas En Artois - 2016
Engagé volontaire en 1915, il termine la guerre comme lieutenant. A fait l'objet de huit citations françaises.
Titulaire de la Croix de guerre, de la médaille militaire, de la croix de chevalier de la Légion d'honneur, la croix de guerre belge, la médaille militaire anglaise.
Après la guerre, il quitte sa commune pour prendre la direction d'une usine de production d'engrais à Auby (Nord).
Par délibération en date du 17 août 1950, le conseil municipal de Pas-en-Artois décida à titre d'hommage public de donner le nom d'André Werquin à la petite place[1].
Ses citations militaires :
Ordre 7.643 du GQG du 6 juin 1918. André Werquin, chevalier de la Légion d'honneur.
« Sous-officier d'élite, d'une bravoure et d'un entrain exceptionnel. S'est opposé avec ténacité à l'avance allemande lui causant de lourdes pertes grâce à son sang-froid et son ascendant sur ses hommes. Ayant épuisé ses munitions a combattu au mousqueton, puis, s'étant procuré de nouvelles munitions a continué à titrer sur l'ennemi à faible distance, se retirant à chaque pas en combattant et ramenant dans un ordre parfait tout son personnel et tout son matériel. »
Ordre 3.883 du 6 septembre 1916 (avec attribution de la médaille militaire) :
« Soldat mitrailleur très énergique pendant les journées du 3 au 15 septembre 1916 a assuré volontairement un service de renseignements des plus périlleux. Le 14 septembre s'est élancé au secours de deux camarades ensevelis, qu'il a réussi à dégager malgré le bombardement auquel la tranchée était soumise. Le lendemain, son chef de section ayant été blessé, a assuré le commandement de cette unité qu'il a porté en avant d'un violent tir de barrage. »
Ordre 79 de l'infanterie divisionnaire française du 12 mai 1917 :
« Sous-officier d'élite d'une bravoure et d'une énergie remarquable, a réussi par sa très belle attitude et ses paroles d'un patriotisme élevé à maintenir chez ses hommes un entrain admirable, a contribué, suivant les premières vagues d'assaut avec ses mitrailleuses, a occuper une position fortement organisée et à la conserver. »
Ordre du 1er corps d'armée n°22 du 16 août 1917 :
« Le 30 juillet, au matin, a fait 4 prisonniers en avant de la ligne avancée tenue par notre infanterie. dans l'après-midi du même jour, est allé à la tête d'une patrouille, prendre en avant de nos lignes deux canons de tranchée ennemie. »
Ordre n°33 de la 1re armée française du 12 août 1917 :
« Sergent mitrailleur d'élite ayant montré en maints combats les plus hautes qualités du soldat, s'est brillamment comporté au cours de l'attaque du 31 juillet 1917, entrainant superbement sa section et contribuant pour une large part à repousser une contre attaque, actionnant lui-même une mitrailleuse installée sur un abri très repéré. Avait procédé préalablement aux opérations d'attaque, à différentes patrouilles volontaires dans les lignes ennemies, à ramené quatre prisonniers et réussi au début de l'action à prendre des canons de tranchées à la lisière d'un bois organisé. »
Ordre n°221 du 30e corps d'armée du 10 août 1918 :
« Officier audacieux, légendaire au régiment par sa bravoure. Pendant la journée du 23 juillet 1918 a enlevé superbement son peloton à l'assaut, après avoir dépassé la seconde ligne ennemie. A contribué puissamment à briser deux contre-attaques qui cherchaient à nous tourner et à fait une véritable hécatombes de boches. »
Soldats et Officiers Australiens et Britanniques de la bataille du 11 Avril 1917 à Bullecourt (2017 à 2023)
Lieutenant William Malcolm CHISHOLM - East Lancashire Rgt (+1914) - Ligny en Cambrésis 2016,2018,2021 ; il fut le premier soldat Australien tué sur le sol français le 27/08/1914

Soldat Auguste MOINARDEAU, 6ème Génie (+1915), Soldat Henri JAUNET (+1914) 64ème RI , Sapeur-Mineur Georges GODREAU, 6ème Génie (+1915), Soldat Joseph HUCTEAU, 137ème RI (+ 1914) à Albert - 2016
Quartermaster Sgt Henry Thomas NORTON, Ottago Rgt (+1916) - Longueval 2016
Captain Cecil Robert TIDSWELL, 1/Royal Dragoon Guards and Royal Flying Corps (+1916) - Etricourt Manancourt - 2016

Major Lanoe George HAWKER, RFC, VC,DSO (+1916) - Ligny Thilloy -2016

Le major Lanoe Hawker VC, DSO est un pilote britannique durant la Première Guerre mondiale, abattu par Manfred von Richthofen le . Il était connu des forces impériales pour avoir abattu plusieurs avions durant les débuts de la guerre, avec un fusil de chasse accroché à son fuselage, les avions n'étant équipés que pour la reconnaissance à cette période. Le , Lanoe Hawker mène son escadrille à bord de son Airco D.H.2. Il engage le combat au-dessus des lignes ennemies avec un Albatros D.II piloté par Manfred von Richthofen, qui sera victorieux, surprenant ainsi le haut commandement allemand ainsi que toute son escadrille, convaincus que Richthofen n'était pas de taille à l'affronter. Hawker est la 11e victime du « Baron Rouge ». Son avion a été touché au-dessus de la commune de Ligny-Thilloy dans le Pas-de-Calais. Un Mémorial à sa mémoire y a été érigé le .


Soldats écossais tués en 1918 à MOEUVRES - Cérémonie du 18 Mars 2017:

ARGYLL & SUTHERLAND : J. REEKIE
BLACK WATCH : Pte J.H. BODEN - Pte A. CULROSS - Pte D.B. HILL - Pte G. KAYE - Pte S. MELDRUM - Pte D. URQUHART
CAMERONIANS: Pte J. HOLROYD - Pte A.M. INNES - Pte A. LEIPER - Pte J. MACPHERSON - Pte R. MARSHALL- Pte M. MUIR – Pte J. MACKENZIE – 2nd Lt J. MAC KILLOP – Pte J. MAC LINTOCK – Pte D. MACNIEL – Pte L. ROBERTS – Captain J. SMITH – Pte F. WEBB -
GORDON : Pte J. DUNCAN (+1917)
KOSB : Pte W. ANDREW - Pte W. AVERY - Pte G. GIBB - Pte W. NICHOL - Pte E. PIPER- Pte R.H ROBERTSON - Pte R. STARK - Pte T. WARDLAW - Pte J. WILSON -
HLI : Pte J. ANDERSON - Pte G. ARMSTRONG – LCpl H. BENTLEY - Pte R. BROWN - Pte T. BROWN - Sgt G. CAMPBELL - Pte H. CAMPBELL - Pte G. DEMPSTER - Pte W. DICKSON - Captain W.F. DONALD - Pte A. HADDOW - Pte R. KNIGHT - LCpl R.KNOX - Pte A. LEISHMAN - Sgt J. MACINTOSH – Pte J. MACKAY - Lt W.P. MACKIE – Pte J. MACLEAN - Pte J. MAC LELLAN – Cpl P. MAC CLELLAND - Pte D. MIDDLETON - LCpl W. MITCHELL- Pte R. MOSELEY – Pte R. MUGGOCH – Pte D. MUIR - Pte T. MULHILL- Pte H. PATERSON - Pte B. PENDREIGH – Pte W. POINTER - Cpl A. PORT- Pte J. RALSTON – Sgt A. REID – Cpl W.A. SCOTT – Pte H. SIMPSON - Pte J. THOMSON – Pte P. THOMSON – Pte J. WALLACE - Pte J. WILSON - Pte A. WOTHERSPOON
ROYAL SCOTS : Pte G.A. BAIRD - LCpl G. B ACKSHAW - Pte D. BROWN - Pte J. CALLENDER - Pte A. CHRISTIE - Pte James DUNCAN - Pte A. MORRISPte D. FAIR - Cpl A. GORDON - Cpl M. GORDON - Pte R. GOVAN - Pte P. GRANT - Lt A. HAWKS - Sgt R. HENDERSON - Pte T. HENDERSON - Lt T.A. HERDMAN - Pte R. HOGG - 2nd Lt R.P. INNES - Pte P. JONES - Pte W. JONES - Cpl J. LOCH – Pte C. MACGEARY - Pte D. MACKAY - Sgt P. MELROSE- Pte J. MILLIGAN – Pte A. MORRIS - Lt L. MUIRHEAD – LSgt G. PITHIE – Pte J. RAMSDALE – Cpl G. ROBERTS – Pte J. ROBERTS – Pte G. RONALD – Pte H. SAMSON – 2nd Lt G. SINCLAIR – Pte G. SOUTHAM - Pte J. STEELE- Lt J.M. THOMSON - Pte H. TRAYNOR - Pte E. TRIBE- Pte R. WATT
RSF : LCpl J. CLARKE - Cpl J.A COWAN - Pte S. DAVENPORT - Pte W. DODD - LCpl A. DUNCAN - Pte J. FISHER - Pte S. GIBSON - Pte G. GOODMAN - Pte T. GRANT- Cpl A.C. HALDANE - LCpl I. LUMSDEN - Pte A. MACDONALD - Pte D. MACLAREN - Pte J. MONTGOMERY- LCpl W. PATON- Pte J. PICKWORTH - Pte D. SHEPHERD- Pte W. STEELE- LCpl J. THOMSON
SCOTS GUARDS : LCpl D.F. SHEPHERD

D. Hunter

, Corporal (promoted to Sergeant), of Dunfermline

T. Mulhill

, Private, HLI , of Leith, Killed in Action and buried at Moeuvres (Ref: V A 29; Moeuvres Communal Cemetery Extension)

D McFarlane

, Private, of Glasgow - Badly wounded

J Fleming

, Private, of Glasgow

L Phillips

, Private, of Glasgow

W Gray

, Private, of Kilwinning

W Jones

, Private, of Peebles

Auguste MARIONNEAU - 93ème et 142ème RI Blessé à Morisel en 1917
François Joseph SEVENO - 5ème Bataillon de Chasseurs à Pied - tué à Morisel en 1918


ROCLINCOURT - 2017 : (all killed in 1917) George MUNRO

,

William ROSS

- 6th Seaforth

James Alexander GRANT -

5th Seaforth

John BANKS, James Gordon MAC CONNACHIE, JOHN ROBERTSON

- 6th Seaforth

Alexander DUNCAN -

Seaforth

Private Alfred BIRD, 3rd Dragoon Guards (+1917) - Monchy Le Preux - 2017

He was serving with the 3rd Dragoon Guards and they advanced on the village of Monchy-Le-Preux on horseback early on 11 April 1917 to re-inforce the infantry who had reached the village but were hard pressed to hold on. Somewhere across the fields between the cemetery and the village he was hit by a shell that killed him and his horse. He was 20 years old. There was an official photographer taking pictures of the cavalry and there are some pictures of dead horses and men - it is quite possible that they are of the incident in which Alfred was killed. Just over twenty 3rd Dragoons were killed or died of wounds that day and only three have marked graves. One of them is in Monchy British Cemetery and it is possible that Alfred is also there under an unknown headstone - we will probably never know.

2nd Lt Jack HARRISON , VC, MC, Hull Pals (+1917) - Oppy - 2017

T/2nd Lt. John Harrison, M.C., E. York. R.
For most conspicuous bravery and self-sacrifice in an attack. Owing to darkness and to smoke from the enemy barrage, and from our own, and to the fact that our objective was in a dark wood, it was impossible to see when our barrage had lifted off the enemy front line. Nevertheless, 2nd Lt. Harrison led his company against the enemy trench under heavy rifle and machine-gun fire, but was repulsed. Reorganising his command as best he could in No Man's Land, he again attacked in darkness under terrific fire, but with no success. Then, turning round, this gallant officer single-handed made a dash at the machine-gun, hoping to knock out the gun and so save the lives of many of his company.

His self-sacrifice and absolute disregard of danger was an inspiring example to all. (he is reported missing, believed killed.)

Soldat Emile BIGORNE, Légion d'Honneur, Croix de Guerre avec Palme 406RI et 251RI - Frasnoy - 2017 .

Ce soldat a éliminé plus de 700 soldats allemands et s'est retrouvé seul avec sa mitrailleuse pour continuer le combat.

On le retrouva blessé de sept balles mais toujours vivant et il fut décoré de la Légion d'Honneur et de la Croix de Guerre avec Palmes, et participa en 1919 au défilé de la Victoire à Paris aux côtés du Général Pétain.

http://www.mairie-frasnoy.fr/docs/Emile_Bigorne.pdf Pte G.C HOLLAND -ARMY CYCLIST CORPS (+ 22/03/1917) - Etreillers (02) - 2017 LCpl L.C. DASHWOOD - Leicester Regiment (+16/05/1916) , Bombardier E. WALSH - Royal Field Artillery (+19/05/1916) , Gunner C.J. BAKER - Royal Garrison Artillery (+29/05/1916) , Gunner J.S. JENKINS - Royal Field Artillery (+21/03/1917) , Rileman H. STONE - Queen's Victoria Rifles (+29/03/1917) - BAVINCOURT (62) - 2017

Lt Geoffrey SAMUELSON MC - COLDSTREAM GUARDS (+27/11/1917)
2nd Lt Charles Fletcher HARTLEY - COLDSTREAM GUARDS (+27/11/1917)
Lt Herbert WINDELER - GRENADIER GUARDS(+27/11/1917)
Soldat J HIMMELREICH Fontaine Notre Dame (59) et Bourlon (62) - 2017 2 unknown soldiers of Durham Light Infantry & Bedford Rgt - Arleux en Gohelle (62) - 2018 Gunner JB ALCOCK (+11/03/18) , Gunner EJ FAGG (+21/03/18), Sgt John GUEST (+06/02/18), Gunner W HOAD (+21/03/18), Bombardier HT KOLBE (+21/03/18), Gunner AT MASON (+06/02/18), Cpl Thomas MONTFORD (+05/03/18), - Royal Garrison Artillery - Montescourt-Lizerolles 2018 Lt Harry LAWSON (+05/02/18), Driver Reginald LEAN (+06/02/18), Driver Ernest SMITH (+03/02/18), Driver Walter THOMSON (03/02/18), Gunner David GRIFFITHS (+06/02/18) - Royal Field Artillery - Montescourt-Lizerolles 2018

Pte H.BROOKS (+21/03/18), Staff Sgt Major Archie HUTT (+21/03/18) - Oxford & Bucks Light Infantry, Pte A T GODMAN (+21/03/18) , Cpl HOWARD (21/03/18), - Queen's Rgt, Sapper Frederick CARTWRIGHT (+21/03/18) - Royal Engineers,
Major Maxwell FORSYTH, DSO,MC (+11/03/18) - 9th Btn Cameronians ,
Pte C R PULHAM (+21/03/18), Pte T E WOODING (+21/03/18) - MGC, Pte F STILTON (+28/02/18) - Royal Berkshire Rgt - Montescourt-Lizerolles 2018 Cpl Richard SPEARING (14th AIF) - Pte Edward Ellis SMITH (13th AIF)- Pte Walter Natanael PETERSON (16th AIF), Pte David William ORCHARD (15th AIF), Pte James Oliver LUGTON (14th AIF) , Pte DAVIS 2/7th Btn West Yorkhire Rgt, Pte A.DENNIS 26th Btn Royal Fusiliers, LCpl Thomas OWENS 9th Btn Durham Might Infantry , Pte Joseph TREGELLIS 52nd Btn MGC , (+28/03/1918) LA CAUCHIE (62)- 2018,2020 Pte Percy FURMAN -RAMC and LCpl Ernest KENYON - RAMC - (+27/03/18) - Cpl H. SEDGWICK 2/5th Btn West Yorkhire Rgt (+29/03/18), LCpl E FLYNN 1/7Btn Lancashire Fusiliers (+01/04/18) - LA CAUCHIE (62) - 2018 , 2020

METEREN (59): 431 UK soldiers & officers, 95 Australians, 26 South Africans, 17 New Zealanders, 15 Indians & 6 Canadians (+ 1914,15,16,17&18) Sgt John FOX , Royal Artillery (+27/05/40) & Pte Albert LEITCH, Royal Scots (+23/05/40) - VIEILLE CHAPELLE (62) - 2018 BEAUVOIR-WAVANS (62) - 2018 : 44 buried soldiers & pilotes
Captain ROBERT LITTLE (DSO,DSC,CG) , RFC (+27/05/1918) Robert Alexander Little

,

DSO & Bar

,

DSC

& Bar (19 July 1895 – 27 May 1918), a World War I fighter pilot, is generally regarded as the most successful Australian

flying ace

, with an official tally of forty-seven victories. Born in

Victoria

, he travelled to England in 1915 and learned to fly at his own expense before joining the

Royal Naval Air Service

(RNAS). Posted to the

Western Front

in June 1916, he flew

Sopwith Pups

,

Triplanes

and

Camels

with

No. 8 Squadron RNAS

, achieving thirty-eight victories within a year and earning the

Distinguished Service Order and Bar

, the

Distinguished Service Cross

and Bar, and the French

Croix de Guerre

. Rested in July 1917, he volunteered to return to the front in March 1918 and scored a further nine victories with No. 3 Squadron RNAS (later

No. 203 Squadron RAF

) before he was killed in action on the night of 27 May, aged twenty-two

Major James MAC CUDDEN (VC,DSO,MC,MM,CG) , RFC

(+09/07/1918)

James Thomas Byford McCudden, VC, DSO & Bar, MC & Bar, MM (28 March 1895 – 9 July 1918) was an English flying ace of the First World War and among the most highly decorated airmen in British military history.
Born in 1895 to a middle class family with military traditions, McCudden joined the Royal Engineers in 1910. Having an interest in mechanics he transferred to the Royal Flying Corps (RFC) in 1913 at which time he first came into regular contact with aircraft. At the outbreak of war in 1914 he flew as an observer before training as a fighter pilot in 1916. McCudden claimed his first victory in September 1916. He claimed his fifth victory—making him an ace—on 15 February 1917. For the next six months he served as an instructor and flew defensive patrols over London. He returned to the frontline in summer 1917. That same year he dispatched a further 31 enemy aircraft while claiming multiple victories in one day on 11 occasions. With his six British medals and one French, McCudden received more awards for gallantry than any other airman of British nationality serving in the First World War. He was also one of the longest serving. By 1918, in part due to a campaign by the Daily Mail newspaper, McCudden became one of the most famous airmen in the British Isles. At his death he had achieved 57 aerial victories, placing him seventh on the list of the war's most successful aces. Just under two-thirds of his victims can be identified by name.[a] This is possible since, unlike other Allied aces, a substantial proportion of McCudden's claims were made over Allied-held territory.[2] The majority of his successes were achieved with 56 Squadron RFC and all but five fell while flying the S.E.5a. On 9 July 1918 McCudden was killed in a flying accident when his aircraft crashed following an engine fault. His rank at the time of his death wasmajor, a significant achievement for a man who had begun his career in the RFC as an air mechanic. McCudden is buried at the British war cemetery at Beauvoir-Wavans.

2nd Lt James Brightwell CUNNINGHAM RAF 205 Squadron (+1918), Lt Alistair FRASER RAF 41st Squadron (+1918), Lt Guy Clifton DAVIS, 1/7Btn Northumberland Fusiliers (+1918), Captain DELL CLARKE G.C, MC, RAF 60th Squadron (+1918), 2nd Lt William FITTON MM, RAF 6th Squadron (+1918),2nd Lt Donald MILLER RAF 70th Squadron, (+1918), 2nd Lt James Kinnaird MITCHELL RAF 57th Squadron (+1918), Pte James WATKINS , Star 1915, WM,VM, Royal Tank Corps (+1918), LT Norman SALES RAF 87th Squadron ( +1918),

Pte Frank FLINTHAM, 4th Queen's Hussars (+1918) - Prouzel 2018

Pte Claude NUNNEY,VC,DCM,MM, 28th Btn Canadian Infantry Eastern Ontario Regiment (+1918) and 2852 other soldiers & officers of British Cemetery in Aubigny en Artois 2018

For most conspicuous bravery during the operations against the Drocourt-Queant line on September 1st and 2nd 1918. On September 1st, when his battalion was in the vicinity of Vis-en-Artois, preparatory to the advance, the enemy laid down a heavy barrage and counter-attacked. Private Nunney, who was at this time at company headquarters, immediately on his own initiative proceeded through the barrage to the company outpost lines, going from post to post and encouraging the men by his own fearless example.

The enemy were repulsed and a critical situation was saved. During the attack on September 2nd, his dash continually placed him in advance of his companions, and his fearless example undoubtedly helped greatly to carry the company forward to its objectives.

49 Canadian Infantry soldiers and officers & 17 from UK at Le Quesnel Cemetery - 2018

51st HIGHLAND DIVISION soldiers & officers - BEAUMONT HAMEL - 2018,2019,2020,2021,2022, 2023

2nd Lt Cecil HEALY , 19th Btn AIF (+1918) - Assevillers -2018, 2019, 2020
Cpl Gordon O'BRIEN,MM, 2nd Btn Cameronians (+1916) - Bernafay Wood, Montauban de Picardie - 2018

Soldiers & Officers of the Tank Regiment - Blangy/Ternoise - 2018

Pte James GARDNER, 9 Btn Devonshire Rgt(+1918) - Beaurevoir 2018

Scottish Rifles killed at Clary,Montay, Le Cateau, Bertry, Lapugnoy, Loos & Beaulencourt in 1918:
1st Btn: Pte Arthur Donaldson ANDERSON, Captain John Kilgour BAKER, Pte W.COOPER,
Pte J .C. MAC LAREN, Cpl P. O'HARE, Pte E. SPINKS, Pte J. STIRLING , HJC WOODFORD
5th Btn: Pte George Thom OSPREAY, Sgt Maxwell TAYLOR
5/6th Btn: Pte Frank FINDLAY, Pte G.H. GIBSON
18th Btn: Pte T. BISHOP, Company Sgt Major George Stuart WILLIAMS
Colonel Hugh SPENS , 5th Btn Scottish Rifles - Clary 2018


Sgt James Veitch PONTON, 2nd Btn Royal Scots (+1917) - Camblain- Châtelain 2018
Pte D. FRASER, Pte John AITKEN, Pte Robert FRIZZELL, LCpl J STRACHAN, Pte David WALKER, Pte Gilbert WILSON, Black Watch (+1918) , Sgt W. ATKINSON, Pte James ARMSTRONG, Cpl W FORD, Pte Ralston GRAHAM, Sgt Rowat Mac LELLAN, Pte J MANSON, Cpl J PHIMISTER, Cpl J.T. WALLACE, Seaforth (+1918) , Pte J BELL , Pte Duncan CAMERON, Major George Deas COWAN, Pte Archie DOVE, Pte J HILLON, Pte James JOHNSTON, Pte G MILLER, Pte Daniel THOMPSON, LCpl Myles WARD, Royal Scots (+1918), Pte Frederick DAVIES, Sgt George THOMSON, KOSB (+1918), Pte David DICKIE , Pte William GILLIES, Pte Archibald JACK, Pte William LYLE, Pte W. Mac COLL, Pte D. Mac QUARRIE, Pte A. THOMPSON, Argyll & Sutherland (+1918), Cpl F DICKINSON, LSgt W JOYCE, Pte B MILLS, Pte J.T. PITT, Pte G STANILAND, Pte B.B. WHAYMAN, Sgt Gilbert Sloan WILSON, Royal Scots Fusiliers (+1918), Pte Frank GRIEVE, Pte W.S. LYALL, Pte Moses Mac CREADY, Pte George MAYALL,Gordon(+1918) - ST VENANT/ROBECQ - 2018


Pte Ernest HARPER, LCpl George HAZARD, Pte William HOARE, LCpl James LOVELOCK,
Pte Charles STREAMER, Pte George CLARKE, Pte Wilfred GLEED, Pte James BEAVER,
Cpl Walter BRINDLE, Pte George ALLIN, Pte John GATFIELD, Pte Francis GOUGH,
Pte Thomas HATTON, LSgt Frank LOVELL, Pte William MATTHEWS,
Captain Henry SHOTT,DSO, Pte Arthur TURNER, Pte William WHITING , all killed in 1914, ROYAL BERKSHIRE Rgt - Maroilles - 2018
Pte J.E. PININGYON , SHERWOOD FORESTERS (+1918) - Maroilles - 2018
Labourer YANG NIU ,(+1919) - CHINESE LABOUR CORPS - MAROILLES - 2018

Pte E. EVANS, 33rd Btn MGC (+1918) , Pte E.H. MALCOLM , 12/13th Northumberland Fusiliers (+1918), Pte W. ROWLEY , 1st Btn LINCOLNSHIRE RGT (+1918)
6th Btn Dorsetshire Rgt:
Sgt Harold Frederick VERRALL (+1918), Pte Allen John GREEN +1918), Pte Herman Alfred PIKE (seriously wounded, +1960) , LSgt Seth Loveridge DURBIN (+1918), Pte Herbert CARY, Pte Henry Ernest BATEMAN (+1918), Pte Albert Thomas CHURCHES (+1918), Pte Alfred COOKSLEY (+1918), Pte Leonard DAWSON (+1918), Pte Lewis HUNT (+1918), Pte Harold Aubrey PACKER (+1918), Pte William Alfred POOK (+1918), Pte Herbert DART (+1918) , Pte James Mac DERMOTT (+1918) , Pte Charles PEARMAN (+1918)

LCpl William KELLY , RAMC (+1918), Driver GF ROBERTS, Royal Field Artillery (+1918) , Air Mechanic John LEADER, RAF (+1918) , Pte Joseph Mac KEAGUE , RAMC (+1917), Pte J MALLON, Royal Irish Fusiliers (+1914), Pte W PARKER, King's Liverpool Rgt (+1918), Pte E BROWN Australian ASC (+1918), Sapper Sidney SPARSHOTT, Royal Engineers (+1918), Pte F WHALLEY, East Lancashire Rgt (+1918), Pte B BUTTON, Essex Rgt (+1914), Pte Henry DEAKIN, Grenadier Guards (+1915), Major Douglas DEAN-PITT, British Red Cross Society (+1917), Gunner George FERNANDEZ, Australian Field Artillery (+1918), Pte Joseph FORD, Midlesex Rgt (+1919), Pte Robert FRASER, Argyll & Sutherland (+1918), Pte Harry HINTON, RASC ( +1919), Air Mechanic Joseph KELLY, RFC (+1917), Pte A.C. KING, Essex Rgt (+1920), Sapper Frank MERHULIK, Canadian Engineers (+1918), LCpl C NIGHTINGTALE, Essex Rgt (+1914), Pte Charles PRINC E, Canadian Labour Corps (+1918), Pte R ROE, Canadian ASC (+1918), Staff Sgt George WALLACE, NZ Engineers (+1918), Cpl William WARDLE, Royal Engineers (+1920), LCpl Bernard WEBSTER, Military Police Corps (+1919), Pte J BRANNAN, Argyll & Sutherland (+1918), Pte Michael CONNOR, AIF (+1916), Nurse Mabel Olivge CRAGGS, VAD (+1915), Cpl I HENRY, British West Indies Rgt (+1917) - Levallois (2018)

Pte Alexander WATSON, 7th Btn Gordon Higghlanders (+1916) - Beaumont Hamel 2018,2019

Cpl J Mac DONNELL, Royal Irish Rgt (+1916) - Sgt Joseph STYLES , East Kent Rgt (+1915) - LOOS - 2018

Q.M. Sgt Percy Amos ELKINGTON , Royal West Kent Rgt (+1918) - Ville/Ancre -2018

31 Rugbymen killed in WW1 - Villeneuve d'Ascq - 2019 :
Lt Cecil Halliday ABERCROMBIE , RFC (+1916) Captain David Mc LAREN BAIN, 2nd/3rd Btn Gordon Highlanders (+1915) - David Revell Bedell SIVRIGHT (+1915)
2nd Lt Patrick Charles BENTLEY BLAIR, 5th Btn Rifle Brigade (+1915)
Lt John Argentine CAMPBELL, Inniskilling Dragoons (+1917)
Captain William Campbell CHURCH , Cameronians (+1915)
Lt Walter Michael DICKSON, 11th Btn Argyll & Sutherland (+1915)
John Henry DODS , (+1915)
Major Walter Torrie FORREST, MC, 1/4th Btn KOSB (+1917)
Captain ROWLAND FRASER , 1/6th Btn Rifle Brigade (+1916)
Major Roland Elphinstone GORDON , Royal Artillery (+1918)
Lt James Young Milne HENDERSON, 11th Btn HLI (+1917)
2nd Lt David Dickie HOWIE Royal Field Artillery (+1916)
Lt James Laidlaw HUGGAN , RAMC, 3rd Btn Coldstream Guards (+1914)
Captain William Ramsay HUTCHINSON, 6/7th Btn Royal Scots Fusiliers (+1918)
Lt-Colonel George A.W. LAMOND, Royal Engineers (+1918)
Lt Eric MILROY , Black Watch (+1916)
Captain Thomas Arthur NELSON, Lothian & Border Horse (+1917)
Pte James PEARSON, 9th Btn Royal Scots (+1916)
Captain Lewis ROBERTSON , Cameron Highlanders (+1914)
Sgt Andrew ROSS, 29th Canadian Rgt (+1916)
Pte James ROSS , 1/14th Btn London Scottish (+1914)
Lt Ronald Francis SIMSON, Royal Field Artillery (+1914)
Lt Stephen Sebastian Leonard STEYN, Royal Field Artillery (+1917)
2nd Lt Walter Riddell SUTHERLAND, 8th Btn Seaforth Highlanders (+1918)
Lt Frederick Harding TURNER, Liverpool Scottish (+1915)
Lt Albert Luvian WADE, (+1917)
Lt William Middleton WALLACE, RFC (+1915)
Lt John George WILL , RFC (+1917)
Lt Commander John Skinner WILSON, Royal Navy (+1916)
Captain Eric Templeton YOUNG , 6th Btn Cameronians (+1915)
Soldat Fernand EUVRARD, 13 RI (+1918) Thennes - 2019

L/Sgt Gordon ROCHEFORD , 78th Btn CEF (+1917), Vimy - 2019
Pte Earl SOREL, 78th Btn CEF (+1969) , Vimy - 2019

Pte John OWENS , 15th Btn CEF (+1917) Ecurie - 2019
2 unknown soldiers, one of the Northumberland Fusiliers - Ovillers - 2019
LCpl Piper Garnet FYFE, Tyneside Scottish (+1916) Ovillers - 2019
Major Frederick Harold TUBB, VC, 7th Btn AIF (+1917) POPERINGHE (B) - 2019
Staff Nurse Nellie SPINDLER ,QAIMNS, (+1917) POPERINGHE (B) - 2019
Soldiers & Officers born in Aboyne - commemorated in ABOYNE ( 2019) :
Cpl John BARRON, 153Btn MGC (+1918) - Pte Joseph BIRSS, 43rd CEF (+1916)
Pte Douglas BREBNER, 2/5th Sherwood Foresters (+1918)
Pte Alister BREMNER , 7th Seaforth (+1918) - Pte George BRUCE, 1st Gordon Hdrs (+1917)
Sgt Albert BUCHAN, 7th Gordon Hdrs (+1917)
Pte Ralph BUCHAN, 7th Gordon Hdrs -(+1916)
LCpl James BURNETT, 5th Gordon (+1917) -
Pte Farquhar CALDER, 2nd Scottish Horse (+1915)
Sgt George CALDER, 5th Btn CEF (+1916) - Pte James CALDER , RAMC (+1916)
Pte Richard CAMPBELL, 4th GORDON (+1918) - Pte R.C. COOPER, 17th HLI (+1916)
Pte William COPLAND, 210th RGA (+1917) - Drummer Edward COUTTS, 7th Gordon (+1917) LCpl Peter COUTTS, 144th ATC Royal Engineers (+1918)
Cpl Falconer DAVIDSON , 43rd Sdq RAF (+1918)
Sapper Alexander DOWNIE , 1st Royal Engineers (+1918)
Pte Alexander DUNCAN, 1st Seaforth (+1916) - Pte Alexander ELLIS , 4th Gordon (+1916) Pte John ELLIS, 2nd Gordon (+1917) - Lt Alastair FARQUHAR, Royal Navy (+1916)
Captain Hobart Brooks FARQUHAR, 15th London Rgt (+1916)
Pte James Mc KENZIE GARIOCH , 18th Btn HLI (+1918)
Lt Alexander R. HENDERSON, 4th Gordon (+1915)
Pte Thomas KEITH , 6th Cameron (+1918) - Pte William KING, 49th Btn CEF (+1917)
Pte Peter LAMONT, 8th Black Watch (+1918)
Rifleman Alexander LITTLEJOHN, 2/8th London Rgt (+1917)
Pte Archibald MIDDLETON, 49th Btn CEF (+1916)
Pte Charles MIDDLETON, 8th Btn CEF (+1916)
Pte John MIDDLETON , 2nd Gordon (+1915)
Pte John MIDDLETON, 7th Gordon (+1916)
Pte William MIDDLETON, 6th Gordon (+1917) - Pte Alfred MILNE, 4th Gordon (+1917)
Sgt George MILNE, 3rd Can. Engineers (+1918) - LCpl John PATERSON, 2nd KOSB (+1918) Pte Fred ROSS, 5th CEF (+1916) - Pte Charles SANDISON, 8th Can. RAMC (+1916)
Pte William SINKFIELD, 17th KRRC (1917) - Gunner Ernest SMITH, RGA (+1917)
Pte Angus STEWART, 7th Gordon (+1915) - Gunner Francis STEWART, RFA (+1918)
2nd Lt John Gill WALKER, 22nd Sqd RAF (+1918) - Gun. Robert WALKER, 35th RGA (+1918) - LCpl Alexander WATT, 1st Gordon (+1917) Pte Charles WATT, 4th Gordon (+1918)
Captain James WILLIAMS, 18th Btn Lancashire Fusiliers (+1916)
Cpl James CHALMERS, RAF (+1945) - Pte John CHRISTIE, 2nd Gordon (+1942)
Guardsman Douglas GORDON, 1st Scots Guards (+1944) - Ronald Mc EWAN, RAF (+1942)
Fusilier William PICKERING, 2nd Btn RSF (+1940)
Alexander ROBINSON, 249th Sqd RAF (+1942) - LCpl William ROSE, Royal Engineers (+1940) - Cpl Peter ROSS, 2nd Gordon (+1943) - Sgt John Laverton SILVER, 547 Sqd RAF (+1943) - Fusilier Kenneth MURRAY, Royal Northumberland Fusiliers (+1951)

Louis ARNAUD (+1914), François BIDEAU (+1914), Joachim CONANEC (+1914), Ernest DUDECK (+1915), Henri JAUNET(+1914), Ludovic ROLLAND (+1915) - La Boisselle -2019

SHETLAND SOLDIERS killed at Beaumont Hamel & Ancre Battle in 1916 - Beaumont 2016,17,18,19,20,21,22, 23:
1st Btn GORDON Hdrs: Pte David ANDERSON Pte Gilbert BROWN
Pte William HUGHSON, Pte William JOHNSTONPte Laurence COOPER
Pte William Gilbert MANSON (+1917), Pte Arthur MAC CARTHY
Cpl Laurence Bain MACKAY Cpl William ROBERTSON
4th & 7th Btn GORDON Hdrs: LCpl Magnus CHRISTIE Pte Robert COUTTS
Pte David EVANS Pte George GROAT Pte Laurence HALCROW
Pte John William JAMIESON Pte William KAY Pte Andrew SIMPSON
Pte James W. SINCLAIRPte Gilbert SMITH Pte George SPENCE
ROYAL FUSILIERS : Pte Joseph ANDERSON
2nd Btn ROYAL SCOTS: Pte Robert William INKSTER
RAMC : Pte George STOUT
2nd Btn CANADIAN MOUNTED RIFLES : Pte William MOAR



Pierre Valleyrand (+1943), René Navrault, Albert Meunier, Joseph Madec, Gaston Pourcelot, Roger Caron, et étaient accompagnés de trois Britanniques, Chapman, John Park (+1943) et Jack Jones. Ils participaient à l'opération Hardtack 11 - GRAVELINES - 2019



WARLINCOURT : 1270 soldiers & officers of WW1 & WW2 - Warlincourt/Saulty - 2020
LCpl William HEWITT , VC , 2nd Btn South African Infantry Warlencourt - 2020

E John HENDERSON, 11th Btn Argyll & Std, (+1915) - Loos - 2021
Pte Jeremiah MAC KAY , 102nd Btn CEF (+1918) - Dury - 2021
Pte Frederic ABBOT, 13th Rifle Brigade (+1919), 2nd Lt Fred ALLINSON , RFC (+1917) , Pte G. BUCKLEY, 1st Btn East Lancashire (+1915), Sgt Richard Jolhn CARNELL, 1st Btn East Lancashire (+1915), Cpl Henry CHITTENDENN, 1/6 Btn Royal Warwickshire Rgt (+1917), Lt William Malcolm CHISHOLM, 1st Btn East Lancashire (+1914), Pte H.COWGILL, 1st Btn East Lancashire (+1915), Pte R.W. HAGGET, 1st Btn East Lancashire (+1915), Pte R.W. ILES , 1st Btn Somerset Light Infantry (+1914), Pte W.E.INNS, 1st Btn Royal Lancaster Rgt (+1914), Cpl Oswald George JACQUES, RFA (+1914) , LCpl J. JORDAN, 2nd Btn Lancashire Fusiliers (+1914); Pte H.J. NUNN, Essex Rgt (+1918), Pte Rupert SCORTHONE, 2/5 Btn Lincolnshire Rgt (+1917) Cpl J. TASKER, 1st Btn Rifle Brigade (+1914), Pte R.A.TURNER, 1st Btn Hampshire (+1914), Lt Charles Stewart VANE-TEMPEST, RFC (+1917), Pte Hezekiah WALKER, Lancashire Fusiliers (+1914), Pte John Samuel WHALE, Hertfordshire Rgt (+1918) and 21 Unknown soldiers - Ligny en Cambrésis - 2021



162 soldiers & officers buried in Frankfurt Trernch Cemetery at Beaumont - 2021





Piper Angus Gunn MAC KAY, 6th

Btn Seaforth Highlanders

(+1917) , Piper Angus Sutherland Mac KAY, 5th Btn Seaforth (+1917)- Roclincourt - 2022, 2023

2nd Lt George Bell MILLER , RFC (+1917), 2nd Lt Edward Wallace HUNT, MC, RFC (+1917) and 1 unknown soldier - Neuville St Rémy - 2022,2023

Lance Bombardier , 8 Reginald L.G.HATCH, 8th Btn Royal Artillery (+1940) , Gunner John Thomas TIMMS, 6th Btn RA (+1940), Gunner Edward William BARLOW, 6th Btn RA (+1940) -
Vieil Hesdin - 2022

Pte W. GREEN , Coldstream Guards (+1916), Cpl A.E. WORRICKER, Essex Rgt (+1916), Bus les Artois 2022, 2023


WW2 TYNESIDE SCOTTISH/BLACK WATCH SOLDIERS & OFFICERS buried at FICHEUX - 2022
Pte Walter BLACK, LCpl Walter CAIRNS, Pte Edmund CARMICHAEL, LSgt Richgard CHAMBERS,
Pte George COLE, Pte David DEAN, Pte John DOWSE, Pte John ELLESMERE, Pte William FENNELL;
Pte Albert FOSTER, Pte William FURLONG, Pte William GILMOUR, Pte John GRAY, Pte John HAIN,
Pte George HALL, Pte William HIND, Pte Robert HOUSTON, Pte Charles INGHAM, Pte Samuel IRVING,
LCpl John JACQUES, Pte Joseph KINEY, Pte James MAUGHAN, Pte Kenneth NEWTON,
LCpl Piper Frederick LAIDLER, Pte Paul LAUDER, Pte John LEIGHTON, Pte Alexander MAC GILLAN,
LCpl Augustine MAC GRORY, Pte Robert MAUGHAN, Pte David MAXWELL, LCpl Robert MILES,
WO2 John MORRIS, Pte Robert MORRISON, Pte Thomas NEISH, Pte Henry OUSBY, Pte George PICKARD, Pte Henry PARKER, WO2 Alfred PARMENTER, Pte John PEARSON, Pte John PEIRS, Pte Malcolm PRIOR,
Pte Thomas RAINE, Pte Thomas REED, Pte Harold REID, Pte Alexander ROSS, Pte Douglas ROWELL,
Pte Joseph RUTHERFORD, Pte Harry THORNTON, Pte John WRANGHAM , , Pte Joseph SANDERSON,
Pte James SMITH, Pte William SPENCE, LCpl William STONEHOUSE, Pte George SWAN,
Pte Frederick TATTERSALL, Pte George TELFER, Cpl William TODDIE, Pte Herbert WATSON,
Pte James WHITE, Pte Thomas WHITE, Sgt Thomas BAILES, Black Watch/TS (+1940),

Piper William SUTHERLAND , 6th Btn Seaforth (+1917) - Roclincourt (2023)



BATAILLE DE FRANLEU en 1940 - (2023) :



John Atkinson

LOGAN

, 8th Btn Argyll & Sutherland (+1940)
Captain Glenn HANDLEY, 7th Btn Argyll & Sutherland (+1940)
Pte Harrty VIRTUE, 7th Btn Argyll & Sutherland (+1940)
W.O II Charles Robertson DYER, MD, 7th Btn Argyll & Sutherland (+1940)
Pte John BURNS, 7th Bt Argyll & Sutherland (+1940)
Pte John CLARKIN, 7th Btn Argyll & Sutherland (+1940)
Pte John Mac Kenzie BOOTH,, 7th Btn Argyll & Sutherland (+1940)
LCpl William BYRNE, 7th Btn Argyll & Sutherland (+1940)
Pte Adam Ferguson HALL, 7th Btn Argytll & Sutherland (+1940)
Pte James Andrew HEPBURN, 7th Btn Argyll & Sutherland (+1940)
LCpl Thomas Edward HILDRETH, 7th Btn Argyll, & Sutherland (+1940)
Pte William Johnstone MAC DONALD, 7th Btn Argyll & Sutherland (+1940)
Pte Duncan Stewart MEIKLEJOHN, 7th Btn Argyll & Sutherland (+1940)
Pte Ralph Thomas PEARSON, 7th Btn Argyll & Sutherland (+1940)
Pte Hugh Cochrane RAE, 7th Btn Argyll & Sutherland (+1940)
Pte Robert RANKINE, 7th Btn Argyll & Sutherland (+1940)
nd Lt Hamish ROSS, 7th Btn Argyll & Sutherland (+1940)
Pte John TAYLOR, 7th Btn Argyll & Sutherland (+1940)
Cpl George MAC MILLAN , 1st Btn Gordon Highlanders (+1940)
Cpl Herbert BEEDHAM, 1st Gordon Highlanders (+1940)
W.O I (RSM) James Jack LEEL, 1st Btn Gordon Highlanders (+1940)
Sgt James MORRISON, 1st Gordon Highlanders (+1940)
Pte Peter YOUNG, 1st Gordon Highlanders (+1940)
Pte Alexander SCOTT, 1st Btn Black Watch (+1940)
Pte James Alexander SIMPSON, 4th Btn Seaforth Highlanders (+1940)
Pte Robert Georges MAC PHERSON, 4th Btn Cameron Highlanders (+1940)
Captain George Nelson MILLER, 75th Field Rgt Royal Artillery (+1940)
L.Bombardier Andrew James BROCK, 75th Field Rgt Royal Artillery (+1940)
Gunner Harry Joseph MANNING, RFA (+1940)
Fusilier William Thomas CARTER, 7th Btn Royal Northumberland Fusiliers (+1940)
Cpl John Richard WHITE, 7th Btn Royal Northumberland Fusiliers (+1940)
Pte Jack WILLIAMSON, Gordon Hdrs, Pte Arthur MONTAGUE, 2nd Royal Fusiliers (+1916) and all their comrades killed and wounded during the Battle of Beaumont Hamel in 1916 - Beaumont Hawthorn Ridge Crater - 2023














REGIMENTS

ECOSSE :
GORDON Hdrs (Huntly, Turriff, Forglen, Roclincourt, Longueval, Albert, Caudry, Authuille, Clary, Aboyne, Beaumont Hamel, Franleu)
CAMERON Hdrs (Vermand, Longueval , Loos en Gohelle, Neuve Chapelle, Martinpuich, Haisnes, Aboyne)
SEAFORTH Hdrs (Roclincourt, Caestre, Flesquières, Authuille, Cantaing/Escaut, Météren, Aboyne)
ARGYLL & SUTHERLAND (Roclincourt, Beaumont Hamel , Cuinchy, Le Cateau, Authuille, Franleu)
ROYAL SCOTS (Courcelles le Comte, Vieille Chapelle, Camblain Chatelain)
ROYAL SCOT FUSILIERS et MGC (Coullemont, Loos en Gohelle, Warlincourt)
TYNESIDE SCOTTISH (Erquinghem/Lys, Ieper, La Boisselle, Alnwick, Newcastle, Ovillers, Ficheux)
HIGHLAND LIGHT INFANTRY (Villers Guislain, Authuille, Bancourt, Moeuvres, Aboyne )
KOSB (Masny, Berwick upon Tweed, Aboyne)
CAMERONIANS (Neuve Chapelle,Montauban de Picardie, Clary)
LOVAT SCOUTS (Colleville-Montgomery)
LONDON SCOTTISH (Longueval, Pas en Artois)
BLACK WATCH (Loos en Gohelle, Haisnes, Abvoyne)
SCOTTISH HORSE (Aboyne)
SCOTS GUARDS (Aboyne, Warlencourt)
51st HIGHLAND DIVISION (Beaumont Hamel, Longueval, Albert, Authuille)
15th Scottish Division (Martinpuich)
9th Scottish Division (Warlencourt-Eaucourt, Météren)
SPEANBRIDGE COMMANDOS MEMORIAL (Ecosse)
HUNTLY WAR MEMORIAL (Ecosse)
DUMFRIES (Ecosse)
SCOTTISH SOLDIERS ( Thiepval, Louverval, Aboyne, Etaples)

ANGLETERRE :
MANCHESTER RGT (Valenciennes, Contalmaison, Iwuy, Riqueval, Beaurevoir)
BEDFORDSHIRE RGT (Achiet Le Grand, Arleux en Gohelle)
LEICESTER RGT (Berles au Bois)
TANK RGT (Flesquières, Cambrai, Bourlon, Longueval, Martinpuich, Butte de Warlencourt, Louverval, Fontaine Notre Dame, Erin, Blangy/Ternoise, Riqueval)
ROYAL FLYING CORPS (Warloy Baillon, Glisy, Roeux, Arras, Amiens, Masny, Bully les Mines, Etricourt-Manancourt, Ligny-Thilloy, Beauvoir-Wavans, Neuville St Rémy)
MGC (Coullemont, Aboyne)
ROYAL AIR FORCE (Taillette, Beauvoir-Wavans, Aboyne)
DURHAM LIGHT INFANTRY (Pozières, Arleux en Gohelle, Beaurevoir, Robecq)
KING'S OWN YORKSHIRE LIGHT INFANTRY (Warloy Baillon)
LONDON REGIMENT (Longueval, Martinpuich, Aboyne)
INFANTRY RGTS (Agny, Albert, Longueval, Arromanches)
NORTHUMBERLAND FUSILIERS (Loos en Gohelle, Locquignol, Ovillers, La Boisselle, Aboyne, Warlincourt)
ROYAL WEST SURREY Regiment (Beaumont Hamel)
YORK & LANCASTER REGIMENT (Loos en Gohelle)
47th ROYAL MARINE COMMANDO (Port en Bessin)
SUFFOLK Regiment (Le Cateau )
ROYAL NAVY DIVISION (Gavrelle)
EAST SURREY, WEST SURREY, BERKSHIRE (Bully les Mines)
EAST LANCASHIRE REGIMENT (Ligny en Cambrésis)
47th LONDON DIVISION (Martinpuich)
DRAGOON GUARDS (Etricourt-Manancourt, Monchy Le Preux)
EAST YORKSHIRE RGT HULL PALS BTN (Oppy)
ARMY CYCLIST CORPS (Etreillers)
ESSEX Regiment (Gueudecourt)
COLDSTREAM GUARDS (Fontaine Notre Dame, Bourlon)
GRENADIERS GUARDS (Fontaine Notre Dame, Bourlon)
ROYAL ARTILLERY (Vieille Chapelle)
4th QUEEN'S HUSSARS (Plachy-Buyon, Prouzel)
ROYAL BERKSHIRE RGT (Maroilles) -
SHERWOOD FORESTERS (Riqueval, Maroilles, Aboyne)
CHINESE LABOUR CORPS (Maroilles)
ROYAL ENGINEERS (Haisnes, Riqueval, Beaurevoir, Aboyne)
46th NORTH MIDLAND DIVISION (Riqueval)
LINCOLNSHIRE REGIMENT (Mons, Le Cateau, Pozières, Albert,Cambrai, Arras, Riqueval, Beaurevoir, Locquignol)
MIDDLESEX REGIMENT (Loos, Somme, Riqueval)
STAFFORDSHIRE REGIMENT (Mons, Loos , Somme, Cambrai, Riqueval)
DEVONSHIRE RGT (Beaurevoir)
YORKSHIRE RGT (Beaurevoir)
WORCESTER RGT (Beaurevoir)
ARMY SERVICE CORPS (Beaurevoir)
ROYAL HORSE ARTILLERY (Beaurevoir)
LANCASHIRE FUSILIERS (Beaurevoir)
5th Rgt ROYAL ARTILLERY - 93rd Battery (Le Cateau)
DORSETSHIRE RGT (Locquignol)
7th EAST YORKSHIRE RGT (Locquignol)
10th WEST YORKSHIRE RGT (Locquignol)
ROYAL WEST KENT Rgt (Ville /Ancre)
ROYAL NAVY (Gavrelle, Aboyne)
ROYAL FUSILIERS (Beumont Hamel)
ROYAL ARTILLERY (Vieil Hesdin)


PAYS DE GALLES :
ROYAL WELSH FUSILIERS (Evin Malmaison - Brucamps - Chocques)
WELSH INFANTRY RGTS (Bois de Mametz)
SOUTH WALES BORDERERS (Beaurevoir)

IRLANDE :
IRISH INFANTRY RGTS (Longueval)
ROYAL IRISH DRAGOON GUARDS (Thiepval)
TYNESIDE IRISH (La Boisselle, Loos en Gohelle)
IRISH GUARDS (Haisnes)
ROYAL INNISKILLING FUSILIERS (Hulluch, Beaurevoir)
ROYAL IRISH RIFLES (Hulluch)
ROYAL MUNSTER FUSILIERS (Hulluch)
ROYAL DUBLIN FUSILIERS (Hulluch, Beaurevoir)
CONNAUGHT RANGERS (Beaurevoir)

CANADA :
NEW FOUNLAND REGIMENT (Beaumont Hamel)
STRAHCONNAS HORSE RGT (Moreuil)
ROYAL CANADIAN DRAGOONS (Moreuil)
CANADIAN INFANTRY RGTS (Vimy, Courcelette, Ecoivres, Lens, Loos en Gohelle, Le Quesnel, Inchy en Artois, Sains les Marquion, Riqueval, Moreuil, Domart/Luce, Ecurie)
48th HIGHLANDERS of CANADA (Holten (NL), Hendecourt Les Cagnicourt , Bénifontaine , Marquion, Courcelette, Warvillers, Loos en Gohelle, Haisnes, Ecurie)
16th CANADIAN SCOTTISH (Courcelette)
RAFC (Gaudiempré, Taillette)
43rd QUEEN'S OWN CAMERON HIGHLANDERS OF CANADA (Le Portel, Aboyne)
REGIMENT DE LA CHAUDIERE DE QUEBEC (Le Portel)
1ère et 2ème Divisions Canadiennes Hill 70 ( Loos en Gohelle)
42nd, 30th,24th, 1st & 57th (Aubigny en Artois)
15th Btn, 78th Btn (Ecurie)
49th Btn CEF (Aboyne)
8th Btn RAMC (Aboyne)
102nd Btn CEF (Dury)



AUSTRALIE :
AUSTRALIAN INFANTRY 1st & 2nd DIVISIONS (Pozières, Péronne, Mont St Quentin, Villers Bretonneux, Bullecourt, Adelaïde Cemetery, Lebucquière, La Cauchie, Dernancourt)
AIF 11th Btn (Moeuvres)
AIF (Vraignes en Vermandois, Assevillers, Bellenglise)
AIF 3rd & 5th Divisions (Bellenglise)

NOUVELLE ZELANDE :
NZ INFANTRY RGTS (Longueval, Arras, Le Quesnoy, Beaudignies)
OTTAGO REGIMENT (Longueval, Beauvoir-Wavans)

ETATS UNIS :
US MARINES - US INFANTRY RGTS (Bony, Omaha Beach, Cambrai, Carentan),
27th & 30th US Divisions (Bellicourt, Riqueval)

AFRIQUE DU SUD :
INFANTRY RGTS (Longueval, Thiepval, Beaurevoir)

INDE :
INFANTRY & CAVALRY RGTS (Montreuil/Mer, Péronne, Brie)

FRANCE :
LEGION ETRANGERE (Lihons, Lille)
265ème RI (Guillemont)
231ème RI (Moreuil)
DIVISION BARBOT (Souchez)
19 RI, 45 RI , 62 RI, 64 RI, 65 RI, 93 RI, 118 RI, 142 RI, 251 RI , 406 RI, 17 RIT, 21 RIT , 22 RIT , 81 RIT, 18 RAC , 28 RAC, 35 RAC,(Albert,Ovillers)
12ème Cuirassiers (Moreuil)
116ème de Ligne (Authuille)
201 RI (Pas en Artois)
5ème Bataillon de Chasseurs à pied (Morisel)
Bataillon de Marche du Pacifioque - Vesles et Caumont

AGNY - 2007
LIEUX DE MEMOIRE INCONTOURNABLES
SOMME :
ALBERT AMIENS BAZENTIN BEAUMONT HAMEL CONTALMAISON COURCELETTE FRICOURT GUEUDECOURT LA BOISSELLE LE HAMEL LONGUEVAL MAMETZ MONT ST QUENTIN MOREUIL PERONNE POZIERES RANCOURT SOYECOURT THIEPVAL VILLERS BRETONNEUX

PAS DE CALAIS :
ARRAS AUBERS BOURLON BULLECOURT CHOQUES ETAPLES FESTUBERT GIVENCHY GOMMECOURT HULLUCH LA BASSEE LENS LOOS EN GOHELLE MARTINPUICH NEUVE-CHAPELLE NOTRE DAME DE LORETTE SERRE LES PUISIEUX SOUCHEZ VIMY

NORD :
ARMENTIERES BAILLEUL CAMBRAI CAUDRY FLESQUIERES FROMELLES LA BASSEE LE CATEAU LE QUESNOY VALENCIENNES VILLERS-GUISLAIN

AISNE RIQUEVAL SOISSONS BONY

NORMANDIE : ARROMANCHES BAYEUX BENOUVILLE CAEN OMAHA BEACH SWORD BEACH UTAH BEACH

BELGIQUE :
CHARLEROI LIEGE MESSINES MONS NAMUR PASSCHENDAELE PLOEGSTEERT YPRES YSER ZONNEBEKE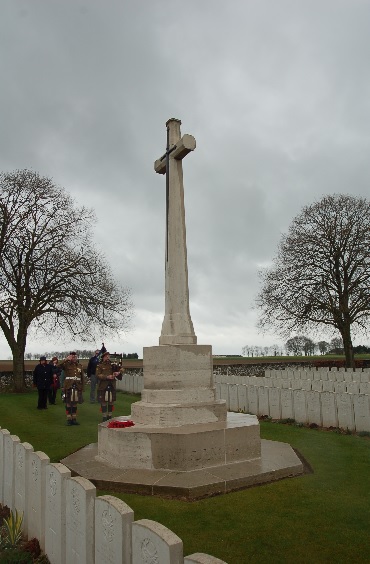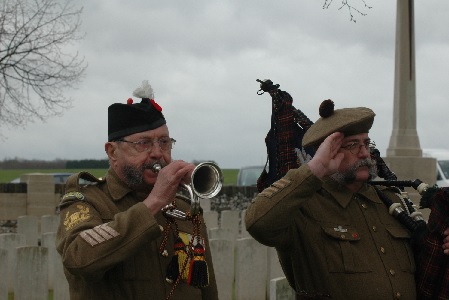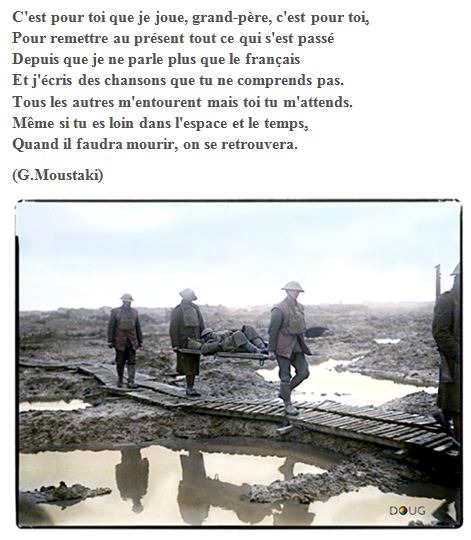 Poème écrit par notre amie écossaise Irene Brown

Ricochet

At Le Cateau, on 26 August 1914
in showers of German fire
a bullet found your mouth; rested in your neck.
"It took eight men tae haud him doun," ma faither tellt me.
He kept the bullet.
No silver spoon for us, just this bit of moulded metal
made with maiming in mind.
100 years on I was rained with kindness
not artillery shell as I stood to salute
the grandfather I'd never known
in the town whose bordering field
was the battleground where
he was felled by an enemy shell
that sat in a matchbox, spent and harmless

in Le Cateau, 26 August 2014.


Irene Brown, Scotland - 2014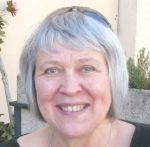 Se souvenir pour ne pas oublier

Pte W.MillinPte PSs Lt R.Etlin (FR)Royale W.Hesforde --- -KKKK.R Lucasaso...W.Millinchester Regiment)wILLOUGHBY W